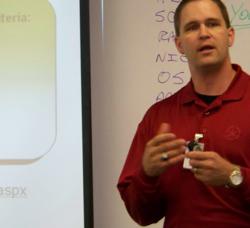 Follow Up Failure is extremely expensive.
Murrieta, CA (PRWEB) March 13, 2013
"Follow-up failure is extremely expensive," Wes Schaeffer, The Sales Whisperer® says. "67% of people that say 'No' today will probably buy within one year. Without proper follow up they are going to be saying 'Yes' to the competition."
He also says that 80% of those leads that many business owners consider "dead" will probably buy within the next two years. Once again, without proper follow up, those leads are going to be buying from somebody else.
What exactly is Follow Up Failure? Schaeffer goes on to say, "It is thinking that most sales are closed on the first call, when in fact, that happens only 2% of the time. It is not knowing that 81% of sales are closed only after the fifth call."
48% of sales people quit after the first call. Only 10% of business owners hang in there until the fifth and beyond. "To be a success, stick with it and follow up automatically, or lose market share and profits to the competition," he concluded.
Wes Schaeffer, The Sales Whisperer, an internationally-known sales and marketing expert will show small business owners in the Southern California area how to turn their Follow Up Failure in to Follow Up Success. He will share his years of experience beginning at 9:00 a.m. on Monday, March 18 at Commerce Bank of Temecula Valley, 25220 Hancock Avenue, Suite 140, in Murrieta.
Schaeffer has been using CRMs since 1998 and has been an Infusionsoft Certified Consultant (ICC) since 2008. He is also a copy-writing, sales training and marketing aficionado who was once voted the top sales and CRM trainer at Dell. His wit and Southern delivery make what is at times a tedious process fun.
To learn more about The Sales Whisperer, and how to fix your follow up failure, click here.