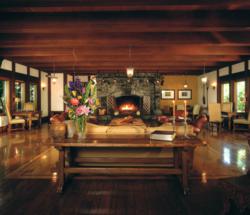 St. Helena, CA (PRWEB) March 13, 2013
As spring blossoms across Napa Valley, becoming fresh with vibrant colors against an expansive backdrop of bright green foliage, the Harvest Inn welcomes arts and wine lovers to the heart of Napa Valley with its "Arts in April" package.
A luxury retreat located in St. Helena, the heart of Napa Valley, the Harvest Inn beckons with its enchanting country-style estate setting, featuring well-appointed and oversized brick and wood guest accommodations spread over eight acres of gorgeously landscaped gardens. Guests who book the Arts in April package are greeted with a Welcome Basket filled with local gifts, including a bottle of Cabernet Sauvignon from our gracious neighbor, Whitehall Lane Winery; handmade chocolates from St. Helena's Woodhouse Chocolates; a charming cookbook; a package of savory and sweet treats; and passes for complimentary wine tastings at Del Dotto Vineyards and Turnbull Wine Cellars, both of which showcase beautiful collections of visual and viticultural art.
Celebrating the elemental connection between wine and the arts, Arts in April is a valley-wide program that satisfies cultural cravings with an exploration of winery art installations, pop-up exhibitions and tastings. In honor of Arts in April's spotlight on St. Helena during the week of April 7 – 13, guests are invited to partake in two special evenings of art, wine and live music. The Harvest Inn is thrilled to feature local artist Penelope Moore, who will create live, wine-inspired paintings in the Inn's Wine Bar on Thursday and Friday, April 11 and 12, from 5:30 to 7:30 p.m. In addition to experiencing Penelope's live paintings, guests are welcome to enjoy live music, hors d'oeuvres and special drink prices – with Franciscan Estate Winery adding to the fun on Friday the 12th, pouring for Arts and April revelers.
The Harvest Inn's Arts in April package also includes:

Personal concierge assistance in planning guests' Napa Valley itinerary and activities
Complimentary wine country breakfast each morning
Complimentary wine and cheese tasting on Friday and Saturday evenings in the Inn's Great Room
Access to the Fitness Center and swimming pool
On-site parking
Free Internet access
Available now through April 2013, the Harvest Inn's Arts in April package starts at $285 per night, plus taxes. For reservations, please call 800.950.8466 or click here. The Harvest Inn is located at One Main Street in St. Helena, the heart of the Napa Valley. For more information about the Harvest Inn, please visit http://www.HarvestInn.com. For more information about painter Penelope Moore, please visit http://www.PenelopePaintings.com.
About the Harvest Inn
Surrounded by world-class wineries and extraordinary dining, the Harvest Inn is a AAA Four Diamond luxury Napa Valley retreat located in St. Helena, the heart of the Napa Valley. The Harvest Inn offers an authentic Napa Valley experience that guests return to again and again, with an enchanting atmosphere featuring country estate-style accommodations such as uniquely designed, well-appointed brick and wood cottages, guestrooms and suites spread over eight acres of gorgeously landscaped gardens and hundreds of redwood trees; stunning vineyard and mountain vistas; two heated swimming pools open 24 hours; a well-equipped Fitness Room; massage treatment rooms tucked into the gardens and among the redwoods; complimentary breakfast daily; warm, inviting hospitality and high-quality service; and a relaxed, retreat-like atmosphere steeped in comfortable luxury. The Main Lodge features a welcoming lobby with singular 20-foot ceilings and custom carved woodwork throughout. Just beyond the lobby is the Inn's spacious Great Room, where guests enjoy fireside wine tastings beside the massive cobblestone hearth. The cozy wine bar offers fine samples of local vintages as well as tranquil views, handsome leather sofas, a grand piano and backgammon tables. Ideally situated at the center of the Napa Valley, the Harvest Inn is the perfect retreat where guests can relax and rejuvenate after a full day of wine country adventures.