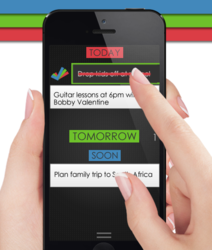 In the very near future people won't have to think at all about what they need to do each day...software will sort and prioritize everything for them. -Cofounder Bryan Bulte
Dallas, TX (PRWEB) March 14, 2013
Anyone who has ever forgotten a birthday, appointment or chore is invited to discover a new way to manage their commitments today, tomorrow and soon as a brand new to do app launches. inGear helps users to stay focused and organized, with more time left for what's important.
The app features an intuitive, proprietary (Today, Tomorrow and Soon) layout which is proven to assist in day-to-day time management. Users simply open the app and are greeted with a single list of what needs to be done that day. Founder Bryan Bulte says this is just the first step, "In the very near future people won't have to think at all about what they need to do each day...software will sort and prioritize everything for them. Understanding this, we have laid the foundation so we can make this a reality for inGear users."
A range of developments are already planned for inGear as a result of user feedback, which the developers have actually encouraged since beta testing in 2012. Co-founder Trey Gibson said, "When we first had the idea for inGear we realized that many of the existing TO DO apps on the market are overly complex and extremely confusing. We set out to design inGear by listening to our customers and using their feedback in a practical way."
"The key is simplicity, allowing our users to easily accomplish their goals. Version 1 or 'First Gear' as we like to call it, is focused on letting YOU organize your tasks and achieve efficiency on a small scale. In second gear, you'll be able to add other people, assign tasks to them, and hold them accountable. This will help you achieve efficient task management on a larger scale. I can't give away anything else but I will say this, there are scoreboards involved and once we hit fifth gear, your whole life will be organized, sorted and ran through inGear." explained Joe Phelan who is another partner of inGear.
inGear is available to download now from the Apple Store. For more information, visit http://www.nowingear.com
About inGear: The original idea for inGear was conceptualized in 2012 by Bryan Bulte when he noticed there were too many different kinds of output that people have to sift through each day just to figure out what they really need to do. Email, text messages, voicemail, scrap pieces of paper, voices in your head … it's never-ending. So he started creating an application that would end the clutter once and for all.