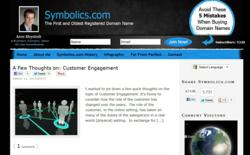 I am very honored and fortunate to own the first registered domain name.
Dallas, Texas (PRWEB) March 13, 2013
Have you ever wondered what the first domain name ever registered was? The answer: Symbolics.com, which dates back to 1985. The name was originally registered by the Symbolics Computer Corporation based out of Massachusetts. Symbolics was known for manufacturing a line of LISP machines, which were computers designed to run the LISP programming language. In 2009, Symbolics.com was sold to Aron Meystedt (33) of XF.com Investments, a web development firm. On friday, March 15, Symbolics.com celebrates its 28th anniversary.
Today, nearly 30 years after the historic undertaking by Symbolics, approximately 250 million domain names are registered across the globe. Symbolics.com is the personal blog of Aron Meystedt, and features advice and tips regarding e-Business, domain names, startup ideas and web development. Symbolics.com features a wide reader base of curious students as well as those interested in digital strategies.
"I am very honored and fortunate to own the first registered domain name," said Meystedt. He adds, "The Internet has changed the way the world communicates and transacts, and Symbolics.com is a significant piece of Internet history."
Each year, on the Ides of March, curious web surfers visit Symbolics.com to catch a glipmse of what has become of the world's first domain name. On March 15, 2009, Symbolics.com celebrated its 25th anniversary, which featured media coverage worldwide in various newspapers, journals and television shows. Symbolics.com receives approximately 500,000 annual visitors.