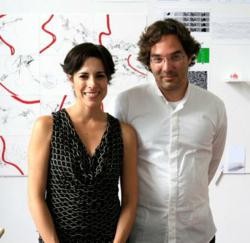 "We are extremely proud of this recognition received by Adriana Cuellar and Marcel Sanchez," said NSAD president Steve Altman.
San Diego, California (PRWEB) March 13, 2013
NewSchool of Architecture and Design(NSAD) faculty member Adriana Cuellar and part-time NSAD instructor Marcel Sanchez are among the winners of the 60th Annual Progressive Architecture Awards for their work designing a library in Tijuana, Mexico. Their project is among 10 projects from around the world that are being recognized for designs that engage people with architectural accessibility and relevance as determined by the awards jury.
The Modulo Prep Library project is located in a flood-prone urban development area in the informal settlement of Camino Verde in Tijuana, Mexico. The project was developed through the firm of Cuellar and Sanchez, CRO studio, which is based in both San Diego and Tijuana.
Both Cuellar and Sanchez teach classes at NSAD; Cuellar works at NSAD as an adjunct faculty member in the Department of Architecture, and Sanchez is a full-time instructor at Woodbury University's San Diego campus. Cuellar, who is also listed as a lecturer with the University of San Diego, was a recipient in 2006 of the Rome Prize Fellowship in Design. Cuellar and Sanchez are co-coordinators of an annual summer studio in Rome offered through NSAD.
NSAD President Steve Altman commended the two instructors for the award and for their ongoing contributions to the NSAD classroom and community.
"This award demonstrates the high level of expertise that instructors bring to the NSAD classroom from their professional practice, and we are extremely proud of this recognition received by Adriana Cuellar and Marcel Sanchez," said Altman. "In addition to recognizing their remarkable contributions to the architecture profession, it also exemplifies NSAD's own mission to train students who are progressive and committed to improving the lives of people through architecture."
The 2,368-square-foot library project is a series of sequential interior and exterior "stages," or scenarios, that connect the amphitheater, the library and the urban plaza, according to Cuellar. Blank outside walls deliberately offer space for graffiti artists, echoing murals on surrounding buildings, while minimal exterior openings ensure the library's security. The building has a $130,000 construction budget, funded by the Mexican government's Social Development Secretariat (SEDESOL).
Cuellar said that the Modulo Prep Library speaks to how architectural design can contribute to the production of social and urban environments, something that she encourages her students at NSAD to explore in their own work. Other projects recognized by the awards committee include the Kimball Art Center in Park City, Utah, from the BIG studio based in Copenhagen and headed by renowned architect Bjarke Ingels. Ingels visited NSAD as a guest lecturer in 2011 and the BIG studio is collaborating with NSAD to offer a special design studio for NSAD students in spring 2013.
About NewSchool of Architecture and Design
NewSchool of Architecture and Design (NSAD), founded in 1980, is located in San Diego, California. NSAD was ranked among the top 10 undergraduate architecture schools in the western United States, according to the 2012 and 2013 DesignIntelligence reports on "America's Best Architecture & Design Schools." NSAD is accredited by the Accrediting Council for Independent Colleges and Schools (ACICS), a national accrediting agency recognized by the U.S. Department of Education and the Council for Higher Education Accreditation. NSAD's Bachelor of Architecture, Master of Architecture and Executive Master of Architecture programs are accredited by the National Architectural Accrediting Board (NAAB). NSAD also offers a pre-professional Bachelor of Arts in Architecture, along with a Bachelor of Science in Digital Media Arts, a Bachelor of Science in Construction Management, a Master of Construction Management and a Master of Science in Architecture. The school's expanding global design education offerings include a new Bachelor of Interior Design program available in 2013–2014. For more information, visit http://www.NewSchoolArch.edu.