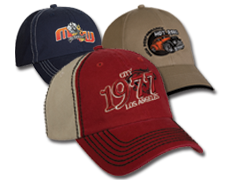 Our technology enables customers to easily select their cap style, upload their logo and submit their order -- all online
San Francisco, CA (PRWEB) March 14, 2013
An online leader in the production of custom media and merchandise, Mixonic Inc. has announced the expansion of its promotional products line with its launch of custom embroidered caps and hats. The Company is now offering over 50 styles of caps, beanies and visors in a wide selection of colors.
Mixonic's offering of high quality caps includes structured and unstructured sports caps, camo hats, military caps and mesh caps. Its selection also includes caps with accented details such as contrasting color visors, stitching, piping and more. Fabrics include 100% brushed cotton twill, laundered and unwashed chino, organic cotton and eco-friendly RPET.
Its expansion into custom embroidered caps and hats is a natural extension for the online leader in short-run CD and DVD production and USB flash drive printing services. "We can now offer our clients, whether they are independent musicians looking for ways to promote their band or corporate customers who are looking for high quality products to give their premium clients, another way to promote their brand" said Bob Jacobson, President and CEO of Mixonic. He added, "We bring our industry leading technology to our caps and hats selection. Not only do we provide an instant quote tool allowing our customers to price their order instantly online, including shipping and handling, but our technology enables customers to easily select their cap style, upload their logo and submit their order – all online."
Customers can order up to 1,200 units online and products will be ready to ship within 10 to 12 days. Mixonic can also help customers who need more than 1,200 units or are looking for a unique cap made with custom fabric and detailing in any color. Mixonic continues to ship to over 25 countries internationally.
About Mixonic
Founded in 2001, San Francisco-based Mixonic is a custom media and merchandise production company. Mixonic is a national leader in CD and DVD short-run production services and offers promotional printed products such as custom embroidered caps and hats, custom printed USB flash drives and custom printed poster, card and flyer printing. Mixonic focuses on short run jobs from 1 to 5,000 units and has produced and shipped projects for over 100,000 unique customers, ranging from Fortune 500 corporations to independent musicians and filmmakers. The Company's retail website enables customers to easily create, order and track projects online 24/7. For more information please visit http://www.mixonic.com