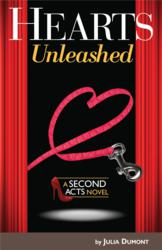 Kindle Nation states: "Think Stephanie Plum meets Sex and the City wearing Fifty Shades of Grey--L.A. style."
Los Angeles, CA (PRWEB) March 12, 2013
Hollywood's ever more successful matchmaking guru to the stars, Cynthia Amas, is back in action attempting to find perfect love matches for her very demanding clients, while simultaneously attempting to keep her own romantic life on track. Hearts Unleashed is the third novel in the SECOND ACTS contemporary romance series from publisher BroadLit. Hearts Unleashed, available now for pre-order (at $8.99 ebook, $14.99 paperback), hits the virtual bookshelves on March 12.
Kindle Nation states: "Think Stephanie Plum meets Sex and the City wearing Fifty Shades of Grey--L.A. style."
In this third novel in the series written by Julia Dumont, Cynthia Amas has just opened the new offices of her highly personalized boutique dating service in Hollywood, California. Her newest client just happens to be a gorgeous, well-connected, uber-rich widow, who is hoping to get back into the world of dating with Cynthia's expert help. The cast of characters includes Cynthia's best friend, Lolita and her ever-mystifying pack of talented dogs, superstar screen idol Jack Stone, and Cynthia's ex-bad boyfriend Max. The hijinks take place across the entertaining hot spots and waterways of Southern California.
Kirkus Review, one of the toughest reviewers in book publishing, says of Hearts Unleashed: "Though her Hollywood matchmaking company, Second Acts, has really taken off, Cynthia Amas' love life has stalled. She finds herself struggling to balance business with pleasure . . . A light, fun read . . ."
The first novel in the SECOND ACTS series, Sleeping with Dogs and Other Lovers, and the second novel in the series, Starstruck Romance and Other Hollywood Tails, both written by Julia Dumont have received uniformly positive reviews. Kirkus Review agrees that the first novel is an entertaining read filled with titillating sex scenes, plenty of plots twists and fun entertainment. With regard to the second novel in the series, Kirkus Review also said: "The misunderstandings and mischief will keep readers turning pages, and the light-weight content makes for easy enjoyment ... erotic adventure for readers more interested in an entertaining read than deep thought."
For more reviews of both Sleeping with Dogs and Other Lovers and Starstruck Romance and Other Hollywood Tails, go to TruLOVEstories.com.
For fun and funny dating tips (that readers are advised to take at their own risk), go to Cynthia Amas' blog – Love, Lies & Dating.
The first two novels in the Second Acts series (each at $8.99 ebook, $14.99 paperback) are now available to purchase on all major e-retailers, including Amazon, Barnes & Noble, Kobo, as well as on AllRomance.com and on BroadLit's own branded romance hub TruLOVEstories.com. All BroadLit books are distributed by Perseus Books' Constellation Services.
ABOUT BROADLIT
BroadLit® combine's the popular genre of romance with the emerging world of new media technology and delivers to today's women romance through its many multi-media channels. BroadLit's website hub, TruLOVEstories.com, is specifically designed for women looking for a little romance seasoned with humor. The site offers novels, stories, games, merchandise, contests, videos and other opportunities for building a strong community.
BroadLit is unique in that it brings to the market a combination of classic and new romance material in a variety of ways. In addition to bringing back to life the assets of True Romance and True Love Magazines, it is also publishing original contemporary romance novels under the TruLOVE Collection series of short story anthologies. BroadLit, Inc. is a Los Angeles based company launched by the owners of Broadthink, a boutique branding and new business development media company.
Title:
Hearts Unleashed
A Second Acts Novel
Author: Julia Dumont
Published by: BroadLit
Published: March 12, 2013
Fiction: Romance Contemporary
Digital
Price: $8.99 USD, $9.99 CAN
ISBN# 978-0-9887627-4-9
Print
Price: $14.99, $17.50 CAN
ISBN# 9978-0-9887627-5-6
Title:
Starstruck Romance and Other Hollywood Tails
A Second Acts Novel
Author: Julia Dumont
Published by: BroadLit
Published: September 4, 2012
Fiction: Romance Contemporary
Digital
Price: $8.99 USD, $9.99 CAN
ISBN# 978-0-9855404-4-9
Print
Price: $14.99, $17.50 CAN
ISBN# 978-0-9855404-5-6
Title:
Sleeping with Dogs and Other Lovers
A Second Acts Novel
Author: Julia Dumont
Published by: BroadLit
Published: April 24, 2012
Fiction: Romance Contemporary
Digital
Price: $8.99 USD, $9.99 CAN
ISBN# 978-0-578-09848-7
Print
Price: $14.99, $17.50 CAN
ISBN# 978-0-9855404-1-8