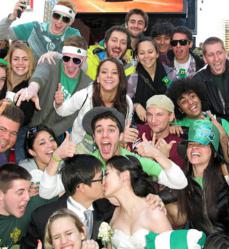 San Diego, CA (PRWEB) March 13, 2013
Dream Buzz, the blog for free social dating site iDreamofU (IDOU), offers dating insights to help singles find the person of their dreams. Since St. Patrick's Day is this Sunday, March 17th, Dream Buzz chose to find lessons in love and romance to be learned from the Irish. Irish folklore was reviewed to learn 8 ways that the Irish culture can be used to help create romance this St. Patrick's Day.
Two of the 8 ways to use Irish tradition to improve romance are to acquire Irish smiling eyes and find some Irish luck.
The song "When Irish Eyes Are Smiling" came out in 1912 and is still one of the most recognized and frequently recorded Irish songs today. The lyrics say that when Irish eyes are smiling, it's like a spring morning filled with laughter and the songs of angels. And when the smile is accompanied by a happy Irish heart, the world is cheerful, bright and perfect. Those Irish eyes can steal a heart. So if one can learn how to make smiling Irish eyes, along with a happy heart, St. Patrick's Day will be right to steal a heart of choice.
Irish luck isn't just luck, but more of an attitude; a positive look at a bad situation. The Irish survived potato famine and being considered as third-best upon arrival in the U.S. by keeping a positive outlook and a great sense of humor.
Edward T. O'Donnell, an author of "1001 Things Everyone Should Know About Irish American History", claims the term has an American origin associated with the gold and silver rush years in the second half of the 19th century. Since a number of the most successful miners were of Irish and Irish- American birth, this association of the Irish with mining fortunes led to the expression 'luck of the Irish.'
Everyone likes a 'can do' and 'will do' spirit in a person so this positive and winning attitude of the Irish should be taken on when wanting to meet that special someone.
When going out on St. Patrick's Day with hopes for romance, make sure all 8 lessons from the Irish are learned. Read "Of Course Everyone Wants to Kiss You. You're Irish!" to find the pot of love at the end of the rainbow on St. Patrick's Day, and every other day of the year.
About IDOU
Online social dating site iDreamofU (IDOU) members can visually create a near-lifelike image of the person they would like to meet (Dream image). The IDOU software then matches the Dream image, along with responses to the traditional demographic and relationship questions, to members on the site.
IDOU is a newer entrant into the free online dating market; a market that is estimated to be in excess of $1 billion. The core differentiating factor between IDOU and all other dating sites is that an IDOU site member builds a visual version of the person he or she would like to meet by selecting an ethnicity, a preferred facial structure along with eye, nose, mouth and hair shapes. Since visual attributes are only part of a member's created profile, responses to the more standard demographic and relationship questions also play a significant role in the matching algorithm.
There is also a non-dating component to the site. Anyone visiting the site can create a person's image just to experience the site.
Launched in April, 2012, IDOU provides an innovative, game-like, and first-in class approach to online social dating for 18-50 year olds in the United States. All services on IDOU are currently free. IDOU will focus on the use of its website and mobile application, as well as other planned applications, to create an online and social dating market niche.