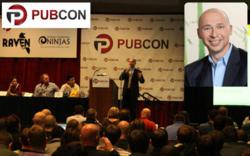 The Pubcon training is an invaluable addition to the conference. The audience is engaged, and learns the latest strategies and tactics in online marketing from top practitioners in the field. I am proud to kick off this event. — Tim Ash
AUSTIN, TX (PRWEB) March 13, 2013
Tim Ash, bestselling author and chief executive at landing page optimization firm SiteTuners, will deliver a kickoff keynote address to begin an intensive day of social media and digital marketing at Pubcon New Orleans 2013's Masters Group training program on Monday, April 22 at the New Orleans Convention Center.
Ash, a noted speaker and leading expert in online conversion, will present a morning address to start off one of the year's biggest and most anticipated week's of new media and search learning at Pubcon New Orleans, the premier social media and optimization conference, the week of April 22 – 25.
The Pubcon Masters Group is a popular limited-attendance educational training program that features an intensive three-track day of industry-leading training program, featuring three premium tracks of sessions dedicated to pay-per-click (PPC) and landing page optimization (LPO), organic search engine optimization (SEO), and social media marketing and optimization (SMM and SMO) led by a dozen of Pubcon's top speakers.
Leading off the day of Pubcon Masters Group training will be Ash, who had developed successful online initiatives for top firms including Google, Facebook, Nestle, Symantec, Verizon Wireless, Canon, Sanyo, Rhapsody, American Express, Sony Music, CBS Interactive, Real Networks, American Honda, COMP USA, Symantec, Harcourt Brace, Universal Studios, HomeGain, Fair Isaac, TransUnion, Rand McNally, Red Envelope, Black & Decker, Ed Hardy, and Coach.
Ash is the author of Amazon.com e-commerce bestseller "Landing Page Optimization: The Definitive Guide To Testing and Tuning for Conversions," which has been translated into six languages.
"The Pubcon training is an invaluable addition to the conference," Ash said. "The audience is engaged, and learns the latest strategies and tactics in online marketing from top practitioners in the field. I am proud to kick off this event and look forward to learning a lot myself," Ash added.
Register today for Pubcon New Orleans 2013 and the Masters Group training, and don't miss Ash's kickoff keynote address or the full day of sessions that follow it, including a pay-per-click (PPC) Pubcon Masters Group agenda featuring Internet marketing strategy guru and bestselling author Jeffrey Eisenberg, noted marketing optimization expert and bestselling author and columnist Bryan Eisenberg, bgTheory.com founder and popular Pubcon speaker Brad Geddes.
The Pubcon Masters Group organic SEO track will feature Trackur chief executive Andy Beal, Joe Laratro, president of Tandem Interactive, MarketMotive.com SEO faculty chair Todd Malicoat, and Michael Gray, president of Atlas Web Service.
The Pubcon Masters Group social media marketing track will feature workshops on Facebook and Twitter advertising optimization and marketing and other social media subjects, with HubSpot.com's viral marketing scientist Dan Zarrella, BlitzLocal chief executive and Facebook marketing expert Dennis Yu, AlisonZarrella.com interactive copywriter and social media consultant Alison Zarrella, BootCampDigital chief executive Krista Neher, and Jabez LeBret, chief innovation officer at law firm marketing agency Get Noticed Get Found.
For New Orleans, the Pubcon Masters Group meets on Monday, April 22 at the state-of-the-art New Orleans Convention Center, the day before the full Pubcon New Orleans 2013 conference begins. The Pubcon Masters group is a separate event from the conference and is only available to those who reserve a space and purchase a stand-alone training day pass or the all-inclusive Pubcon Platinum pass.
Learn more and register at http://www.pubcon.com
About Pubcon
Pubcon is a multi-track educational conference hosted by Pubcon Inc. Pubcon, supported by the industry's leading businesses, speakers, exhibitors, and sponsors involved in social media, Internet marketing, search engines, and online advertising, offers an in-depth look at the future of technology presented by the world's top speakers in provocative cutting-edge sessions.
For more information about the conference, contact Brett Tabke at 512-231-8107 or brett(at)pubcon(dot)com
For more details about sponsorship and exhibition opportunities, contact Strategic Marketing Director Joseph Morin at 512-231-8107 ext 104 or joe(at)pubcon(dot)com