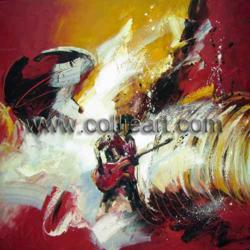 Dallas, Texas (PRWEB) March 13, 2013
Collieart, the leading online oil painting gallery just announced a new selection of art that's available for sale directly from their website. The company offers the most comprehensive selection of oil paintings anywhere and consumers have to option of purchasing art in many categories including modern art and even reproductions of some of the world's most recognizable masterpieces. The owners of Collieart have made it their mission to bring stunning artwork to any home and making this artwork available online means that anyone can quickly get the art that will give their home that little something extra.
When visitors arrive at the Collieart website they find graphic representations of some of the more popular pieces of art available at the site. Each piece of art is represented by a clear image and a clickable box that gives the name of the piece as well as its price. A simple click on any image takes the viewer to a more comprehensive description of the piece of art including information about the original painter if the art work is a reproduction and even instructions for how to frame and hang the artwork. Of course, those interested in purchasing a piece of art can add it to their cart and purchase directly from the website for quick shipping.
The website itself is designed for ease of use and through large and clearly marked drop down boxes, visitors can search for artwork by category or in the case of the reproductions by artist. In the modern art category, the company offers selections of abstract art, African art, animal art, cartoon artwork, and nudes just to name a few. The oil painting reproductions are of some of the most recognizable masterpieces in the world including such well known pieces as Davinci's "Mona Lisa" and Monet's "Bridge Over a Pond of Water Lilies."
The collection of artwork on the site is extremely easy to view and purchase and visitors to the website can set up an account and even access a blog that discusses many topics relevant to the world of art. To learn more about oil paintings reproductions visit the Collieart website at http://www.collieart.com or send a note to the site owners using the form on the "Contact Us" page on the website.
###