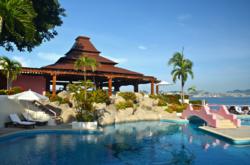 The fact that this recognition comes not only from domestic guests but from international patrons as well, proves that our brand has maintained its legendary status and continues to compete with the world's largest multinational luxury chains
Mexico City, Mexico (PRWEB) March 14, 2013
Las Brisas Hotel Collection, Mexico's most prestigious hotel and resort chain, will once again be in attendance at Tianguis Turístico Mexico 2013, hosted this year in the city of Puebla. During the esteemed Mexican tourism event taking place March 17-20, Las Brisas will be presenting its portfolio of more than 2,500 rooms located in seven of the top Mexican destinations. They include Las Brisas Acapulco, Las Brisas Huatulco, Las Brisas Ixtapa, Las Hadas Golf Resort & Marina Manzanillo, Hacienda Jurica Queretaro, Galeria Plaza Reforma Mexico City and Galeria Plaza Veracruz. In addition, this year, three new properties will be revealed to the industry, beginning with its newest and most luxurious project to date — NIZUC Resort & Spa.
"Tianguis is always an amazing opportunity to showcase our hotel portfolio to the world," says Rafael Juan Millán P., Director General and CEO of Las Brisas Hotel Collection. "This year is even more exciting as we will be presenting the new elite brand of the company — NIZUC Resort & Spa. This is our first foray into the Mexican Caribbean market, and to do it with a property of this caliber is a proud and exciting moment for the whole company."
NIZUC Resort & Spa is being launched in Spring 2013. "With 274 sprawling suites —most with private plunge pools, intimate villas with tropical gardens, six world-class restaurants, two exclusive beaches, a 30,000 sq. ft. spa by ESPA and lush landscaping; our attention to detail must be flawless," says Louis Daniel, General Manager of the resort. "This resort already has a long history and expectations are extremely high. We are confident that the product we deliver will surpass the expectations of even the most illustrious patrons."
NIZUC Resort & Spa will mark Las Brisas' establishment of a truly Mexican ultra-luxury brand. "This is just the first resort in Mexico to carry the NIZUC brand," explains Antonio Cosio Pando, Vice President of the Board of Directors of Las Brisas Hotel Collection. "We are already in the planning stages of NIZUC Los Cabos and are looking into other locations as well." NIZUC Los Cabos is slated for a 2016 opening.
Las Brisas Hotel Collection will also be announcing the addition of two more properties to its portfolio.
Joining the already legendary Galeria Plaza in Mexico City's Zona Rosa will be Galeria Plaza San Jerónimo. "San Jerónimo is a bustling residential and business neighborhood of Mexico City," says Pilar Arizmendi-Stewart, Director of Marketing for the company, "there is a high demand for five-star lodging and services in the area. Galeria Plaza San Jerónimo will fulfill the need of a luxury option for business travelers and visitors of this booming district." Galeria Plaza San Jerónimo will offer 150 rooms and is scheduled to open in 2014.
The hospitality brand will also be entering an entirely new market with the introduction of Sunrock Hotel & Residences Los Cabos. "We are known for our upscale resorts and hotels throughout Mexico, but with a rapidly growing middle class and more frugal international guests, we wanted to offer a new, more affordable concept," explains Walter Bekar, Director of Marketing for the company. "We have this beautiful property with million dollar views of Los Cabos bay offering families and groups of friends two bedroom residences with fully equipped kitchens and living rooms at a very competitive rate. Now everyone can afford Los Cabos!" Sunrock Hotel & Residences offers 112 two-bedroom residences, seven swimming pools, free self-parking and unobstructed views of Los Cabos bay.
"2013 is an exciting year for Las Brisas," exclaims Antonio Cosio. "We are so proud to be recognized as one of the premier hospitality brands in Mexico. The fact that this recognition comes not only from domestic guests but from international patrons as well, proves that our brand has maintained its legendary status and continues to compete with the world's largest multinational luxury chains."
Tianguis Turístico Mexico 2013 will be held at Centro Expositor Puebla in Puebla, Mexico from March 17-20. Las Brisas Hotel Collection will be located at booths 4012 and 3515.
Las Brisas Hotel Collection, Mexico's luxury hotel leader, operates five Resort properties: Las Brisas Acapulco, Las Brisas Huatulco, Las Brisas Ixtapa, Las Hadas Manzanillo and NIZUC Resort & Spa and three Corporate properties: the Galería Plaza in Reforma, Galería Plaza Veracruz and Hacienda Jurica in Querétaro. Las Brisas Hotel Collection is world renowned for providing unparalleled personalized service and luxury accommodations in a warm, friendly environment in exotic resorts as well as city center locations. For more information please log on to http://www.lasbrisascollection.com