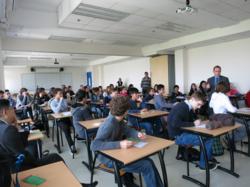 The aim is to give students solid, objective information about the university admissions process in the US.
Hong Kong, China (PRWEB) March 14, 2013
Students at three international schools in Hong Kong learned the ins and outs of college admissions from an expert last week. Mark Montgomery, President of American Academic Advisors in Hong Kong, shared his "Roadmap to Selective Universities in the USA" with groups of students eager to pursue higher education in the United States.
Dr. Montgomery visited French International School, Hong Kong Academy, and Elsa High School as part of his most recent swing through South China.
Senior administrators of these schools invited Dr. Montgomery to give an insider's view of how students are evaluated for admission at the most selective American Universities, including the Ivy League. Dr. Montgomery shared the four fundamental factors that admissions officers consider: secondary school performance, standardized tests, teacher recommendations, and personal statements or essays. He also shared his views on how to develop special interests and talents to give an applicant an edge in the admissions process.
"I try to be both entertaining and informative when I speak to students," said Dr. Montgomery. "The aim is to ensure that they get solid, objective information about the admissions process while also encouraging them to think more broadly about their future."
"Mark has a fresh message that Hong Kong students need to hear," said Mr. Saiyu Hui, CEO of American Academic Advisors. "His approach is to highlight all the opportunities available to students in the United States, and to help them see that students need not be perfect in order to achieve success, happiness, and prosperity."
Dr. Montgomery offers these presentations to schools as a way to bring objective information to families. Some of the topics addressed in the presentation include the misleading nature of the annual rankings, the difficulty for international students to enter the Ivy League, the truth behind admissions statistics, and what admissions officers really care most about in the applications.
One item of particular focus was the existence of the ACT test as an alternative to the SAT. "People in Asia have no idea they have a choice as to which standardized test to take," said Mr. Hui. "It is quite a revelation for some families."
School administrators find these presentations a useful way to bring the message to families that many outstanding opportunities exist beyond the most selective universities, and to help students think beyond the short list of brand-name colleges. Dr. Montgomery likes to reinforce the messages that schools already are imparting: that one's success in life does not depend on the name on one's diploma.
"Success is all about choices," said Dr. Montgomery. "I try to help students make the best educational decisions. Education is a long-term investment, so it pays to think carefully about what kind of education is best."
********
American Academic Advisors is a full-service educational consulting firm offering the highest standard of professional advice for students headed to the United States to study. We give families the information they need to make the right decisions, and the guidance necessary to implement their decisions. Our advising is tailored to the individual needs of each student in ways that will help them achieve happiness, success, and prosperity.
Dr. Montgomery will return to Hong Kong in April to give more presentations to students and parents. Please contact American Academic Advisors at (+852) 2698 7988 for more information.
In addition, American Academic Advisors publishes a document explaining the differences between the ACT and SAT that is geared toward students in Hong Kong and China. Please contact us for a copy.