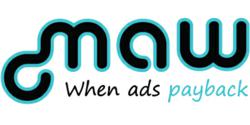 Advertising is all about finding the best approach to engage people in ways that they find to be informative and entertaining
Clearwater, Florida (PRWEB) March 13, 2013
It's official—the world is going mobile. New statistics show the increased usage of smartphones and tablets by today's consumers. Google recently announced that 850,000 new Android devices are activated daily; the total number of Android devices around the globe has surpassed 300 million, with a year-on-year growth rate of more than 250% (1). Incredibly, despite the increased mobility of today's consumers, the number of businesses implementing mobile advertising remains relatively miniscule. Currently, mobile advertising accounts for only 1.6% of total media ad spending. Tampa Bay-based mobile app, MobAdWin (Mobile Advertisement Win-Win, or "MAW"), is one of the first apps to capitalize on the mobile craze in an innovative way.
MAW caters to both subscribers and advertisers, and is being offered exclusively to iOS and Android users. Mobile advertising to date has only been a unidirectional approach—from the advertiser to the consumer—and has provided no opportunities for consumer interaction. MAW recognized the disconnect in mobile advertising and developed an innovative app that businesses can use to ensure their ads reach their target audience, while consumers' opinions can also be heard.
The MAW strategy is twofold: It is the only app that pays consumers for viewing and rating ads, and gives businesses the ability to target specific demographics. Businesses that use MAW are able to modify delivery of their advertisements, so that they reach certain groups of people, based on profiles created by consumers—which can include age, sex, interest and income. MAW can even localize campaigns so that the ad is sent to consumers when they enter a zone defined by advertiser. MAW is capitalizing on the basic premise of smartphones—interaction. MAW has proven to be ahead of the game by embracing increased consumer mobility and recognizing mobile advertising interaction as a fundamental digital marketing strategy.
Mobile advertising is set to become the most prevalent form of advertising over time. According to a 2012 survey from Hipcricket, 46% of smartphone owners have viewed a mobile ad; among them, 64% have completed at least one purchase as a result of doing so. However, fully 74% of smartphone users say their favorite brands have not yet advertised to them via mobile. Among those who have made a purchase as a result of a mobile ad, 45% have referred a product or service to a friend or colleague (2).
The rapid consumer adoption of mobile devices is creating an overabundance of usable ad space, and MAW says it wants to take advantage of this business opportunity. Tampa Bay was initiated as MAW's proof-of-concept region, and they are now expanding into Chicago, Washington, D.C. and Puerto Rico. Based on the number of iOS and Android devices currently in circulation, advertising software solutions provider, Marin Software, estimates that there will be one billion smart mobile devices in use globally by the end of June 2013 (3). Alex Dammous, co-founder of MobAdWin, believes mobile advertising is the best answer to reach consumers on a regular basis.
"Advertising is all about finding the best approach to engage people in ways that they find to be informative and entertaining," says Dammous. "Interactive mobile advertising is the new way to do that. It's also about results, ROI, controlled budgets, feedback, and quick response. Our app offers all that, and more, to advertisers, both big and small."
For more information as a consumer or a business, visit http://www.mobadwin.com.
About MobAdWin:
MobAdWin (MAW) was established by Alexandre Dammous, a licensed attorney in the European Union, certified mediator in the U.S. and international law consultant who completed a masters in international law from Stetson and his JD from a Université de Liège. His partner, Renaud Migeot, is a former senior executive banker with a specialization in securities. Together, these two experienced businessman realized that advertising wasn't working the way they knew it should be. MobAdWin is the first and only Win-Win marketing platform, and is innovative in the interactive mobile-marketing world. The users and advertisers interact, with almost all costs shared with the customers. The users earn cash and perks (discounts, special offers, gifts) and decide when and how they receive the ads via smartphone. The advertisers truly interact with the customer base. Currently, MAW is available as a free download on both iOS and Android.
(1)Kaiser, Tiffany. "Quick Note: 850,000 Android Devices Activated Daily." DailyTech.com. N.p., 27 Feb. 2012. Web. 5 Mar. 2013. dailytech.com/Quick+Note+850000+Android+Devices+Activated+Daily/article24097.htm.
(2)Horton, Chris. "Mobile Advertising Works." Social Media Today, 30 Jan. 2013. Web. 05 Mar. 2013. socialmediatoday.com/chris-horton/1200756/mobile-advertising-works-so-why-nobody-doing-it.
(3)"The State of Mobile Search Advertising In The US." Marinsoftware.com. Marin Software, n.d. Web. 05 Mar. 2013. marinsoftware.com/resources/whitepapers/2012-mobile-advertising-report.