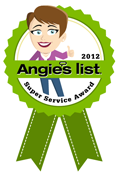 Tucson, Arizona (PRWEB) March 13, 2013
For the year of 2012, ACS, a Tucson AC service company, has again won the prestigious Super Service Award. This esteemed prize is awarded only to a minimal 5% of companies rated on Angie's List™.
"It's a select group of companies rated on Angie's List that can claim the exemplary customer service record of being a Super Service Award winner," said Angie's List Founder, Angie Hicks. "Our standards for the Super Service Award are quite high. The fact that Air Conditioning Services (ACS) earned this recognition speaks volumes about its dedication providing great service to its customers."
ACS believes it is their employees and customers they have to thank for receiving this award with servicemen being described as respectful, polite, and gregarious to the customers who have continued to review ACS on Angie's List™. As stated in their company Mission Statement, ACS strives to maintain 100% customer satisfaction.
A representative from ACS has this to say to the customers who have helped them achieve this award: "We believe that there is nothing more beneficial than satisfied customers, and we're glad to have lived up to your standards. This being said, we would like to thank all of our Lower Arizona customers for helping us achieve such an honor."
For any heating, ventilation or air conditioning issues, Tucson residents are encouraged to contact ACS at http://acshvac.com/.
About ACS
ACS Air Conditioning Services is a heating and air conditioning company located in Tucson, AZ
that prides itself on being customer focused. The company originally opened in the year 1990 and specializes in the design, engineering, and installation of perfect climate systems for homes and buildings in the Southern Arizona area.