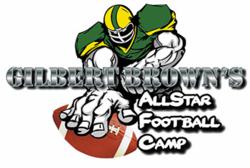 Oconomowoc, WI (PRWEB) March 13, 2013
Gilbert Brown, former nose tackle for the Green Bay Packers, is hosting three summer youth football camps in Wisconsin.
Boys and girls in first through eighth grades are invited to the camps with the "gravedigger" himself, Gilbert Brown, in Madison, West Bend and Oconomowoc.
The Gilbert Brown Football Camps are scheduled for three locations:
● June. 18 - 20, West Bend High School, West Bend
● June 25 - 27, Keva Sports Center, Madison
● July 23 - 25, YMCA at Pabst Farms, Oconomowoc
Gilbert Brown provides children with an environment that fosters skills such as teamwork, discipline, responsibility, respect, family values, hard work and fun.
Campers will learn in a very safe and fun environment and all campers will receive an official Gilbert Brown Camp T-Shirt and a special gift. Registration is between $175 and $195. Multiple times are available for each location.
For more information on how to register for the camps, visit http://www.mayfieldsportsmarketing.com.
About Mayfield Sport Marketing
Mayfield Sports Marketing is dynamic and energetic. Mayfield Sports Marketing is a marketing firm and booking agency that assists corporations, non profit organizations and third parties in finding a player agent, business manager or contacting the player directly. We can assist you in hiring the player/celebrity for an Autograph Session, Golf Outing, Football Camp, Paid Appearance or Endorsement Deal. We can find fees associated with an appearance and hire a football celebrity such as for a Keynote Speaking Engagement, Trade Expo, Corporate Event, Store Grand Opening or TV/Radio commercials.