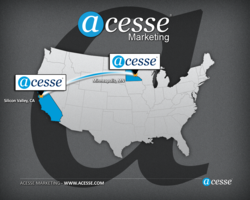 "Developing and leading a strong technologically advanced team is critical to the growth and success of Acesse and its members, and the best place in the world to create the team is in Silicon Valley."
Minneapolis, MN (PRWEB) March 13, 2013
The new Acesse office in Santa Clara, CA is located at 4800 Great America Pkwy in the heart of Silicon Valley, surrounded by the largest technology companies in the world. The Silicon Valley team will head up Research and Development of new Acesse Applications and Services, including the new Acesse Mobile Platform.
"Opening the office in Silicon Valley gives us access to some of the brightest and best technology talent in the world," said Robert Kinsella, President of Acesse. "Developing and leading a strong technologically advanced team is critical to the growth and success of Acesse and its members, and the best place in the world to create the team is in Silicon Valley," said Kinsella.
The focus for the Acesse engineering team in Silicon Valley will be to create new dynamic products and services for the small to medium business market, including the new Acesse Mobile Business Services. The team will also work on expanding and upgrading the current systems, as Acesse looks to grow to over 1 Million Members in 2013. Acesse continuously strives to create the greatest opportunity for success through every facet of the company.
Acesse Corporate offices are located in Minneapolis, MN, home to the top Fortune 500 companies like Target, 3M, UnitedHealth Group, Best Buy, Medtronic, and General Mills. While Minneapolis is a hub for corporate headquarters, Silicon Valley is the leading area for technology. "For us it was a natural to go to Silicon Valley, because this is where all the leading technological companies, and top engineers are located", says Kinsella.