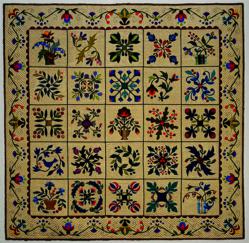 This year's show might be the best collection yet!
Lancaster, PA (PRWEB) March 13, 2013
AQS QuiltWeek™, opening March 13, 2013, features over 300 quilts from around the world. Among the five special exhibits are included two international collections, one from the National Quilt Museum, and two curated and hosted by the American Quilter's Society.
The high point of the show recognizes the artistry of today's quiltmakers, as over 200 quilters in the AQS Quilt Contest compete for more than $44,000 in cash awards. Entries in this international contest and exhibition come from around the world – with entries from forty-three states and seven countries. The winners of this year's contest have just been selected.
This year's winners come from across the world, each sharing a part of the $44,250 cash prizes. Quilts from twenty-one states have won awards at this year's contest, and two winners come from other countries – Canada and Germany. These 25 winning quilts will astound the 15,000 quilters expected to visit AQS QuiltWeek in Lancaster, PA, March 13 – 16, 2013.
Meredith Schroeder, Founder and Chairman Emeritus of the American Quilter's Society, says, "We always receive so many wonderful entries in Lancaster. This year's show might be the best collection yet!"
A highlight of the winners of top honors are:
Best of Show Award: SAMPLING THE SILK ROAD by Christine Wickert of Penfield, NY
Best Hand Workmanship Award: TENNESSEE TREASURES by Linda M. Roy of Knoxville, TN
Best Machine Workmanship Award: DESERT'S GLORY by Lois Podolny of Tucson, AZ
Best Longarm Workmanship Award: MASQUERADE by Birgit Schueller of Riegelsberg, Germany
Best Wall Quilt Award: RED LETTER DAZE by Janet Stone of Overland Park, KS
There's still time to come see all the winners, as well as the more than 300 quilts on display at the Lancaster County Convention Center. Admission to AQS QuiltWeek includes access to all special exhibitions and the merchant mall with more than 200 vendors. Hours are Wednesday, March 13 through Friday, March 15 from 9 a.m. to 6 p.m., and Saturday, March 16, 9 a.m. to 5 p.m.
The American Quilter's Society is the largest quilting membership organization in the world. For almost 30 years, AQS has been the leading voice in quilting inspiration and advice, through a broad suite of products—magazines, books, live events, contests, workshops, online networks, patterns, fabric, and catalogs. At AQS, we believe that with inspiration and advice, the creatively minded can take their quilting projects beyond what even they had imagined. That is why inspiration is central to everything we do. The leading authors in quilting choose to publish with AQS; the best in quilt artistry select AQS events to display their work; the newest quilters learn from the knowledge and inspiration of AQS members.