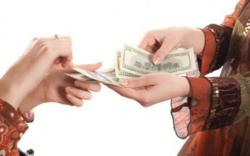 Don't scoff. Too many people think it rude for family members to charge each other interest.
Phoenix, Arizona (PRWEB) March 14, 2013
What are the rules for borrowing and lending money with family members? Some people say it is best to never do business with family and others say to look to family and friends first when one needs some cash to start a business, pay off high interest debt, etc. Generally, if one is going to loan money to a family member or accept a loan from a family member, it needs to be done properly with actual documentation. That may seem like overkill when all parties know and trust each other, but, in the end, it pays to have it, if things don't go as smoothly as planned.
Some things to consider before writing or cashing that check are:
1. How long will the borrower have to repay the loan?
The term of the loan will obviously vary widely depending on the size of the loan and the willingness of the lender to have the balance outstanding among other factors. While a longer term will usually result in lower payments for the borrower, this isn't always in the lender's best interest depending on whether or not interest is being charged. Also, this is not a bank, it is family and one needs to be honest about how the loan may affect the relationship.
2. Will the payments be equal amounts or will they go up/down over time?
Most people will choose to divide the loan into equal payments for the whole term of the loan. However, since it is in the best interest of both parties to limit the potential for a strained relationship, if one has the ability to make larger payments up front that will leave less money on the table down the road when unforeseen circumstances may make repayment difficult.
3. Will there be interest charged?
One should not scoff at this question. Too many people think it rude for family members to charge each other interest. They may be right for small amounts of money that will be paid back on short timeframes, but as the numbers grow and the term extends, it would be rude to not factor in the lost potential income of the lender, if they were to put that same money somewhere else. For example, a loan from a bank for $100,000 at a 3% interest rate could easily result in $50,000 in interest paid over a 30 year term. That's not pocket change.
4. What will happen if a payment is missed?
This is one of the most important discussions all parties involved need to have. There is no need to have an iron hammer drop at the end of the grace period for each payment, but it is important that there are clear definitions of what constitutes a late payment and consequences for not making timely payments. The more detailed this section of the agreement is, the less awkward things will be if/when a payment is missed.
5. What will happen if the borrower stops making payments all together?
This is worst case scenario in a loan situation. No one wants it to happen, but if things always worked out perfectly, experts wouldn't be recommending the parties have a written agreement in the first place and lawyers wouldn't have jobs. Even more important than what happens if a payment is missed is addressing what will happen if repayment is stopped all together. There are a number of ways to handle this and much of what the lender will be able to do is pre-determined by laws and regulations, some of which may be unique to the type of loan. However, having provided for as many eventualities as possible in the agreement at the beginning will help both parties save money and time dealing with the fallout of a stoppage of repayment. Details in the agreement will leave less room for interpretation when there is disagreement.
With proper forethought, a solid agreement, and the help of an attorney for guidance as well as being a neutral third party, one shouldn't have to stick to the old adage of "neither a borrower nor a lender be". It is absolutely possible for family members to loan money successfully and agreeably between themselves.