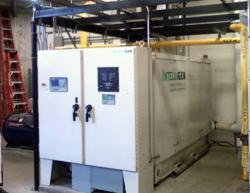 An IntelliGen cogeneration system is an excellent way to save money through energy efficiency.

It is truly a case of doing well by doing good...
New York, NY (PRWEB) March 13, 2013
IntelliGen Power, a leader in distributed power generation projects, announces the launch of a program to provide assistance to facilities seeking funding through the NYS Energy Research and Development Authority ("NYSERDA") Combined Heat and Power (CHP) Acceleration Program. All NY based facilities that are seeking to save money on their utilities should evaluate CHP - there has never been a better time given the new incentive program from NYSERDA.
"This new program is a great opportunity to receive incentive money to install a cogeneration system," said David Lesser, President of IntelliGen. "The utility rates in New York already make CHP, also known as cogeneration, a compelling solution for energy users looking to save money through energy efficiency. NYSERDA funding can drive down the cost to make it that much more attractive. Even without subsidies, many cogeneration projects in New York pay for themselves in less than 5 years."
The NYSERDA Program provides incentives for the installation of pre-qualified and conditionally qualified CHP systems by approved CHP system vendors in the size range 50kW – 1.3MW. To be eligible for incentive payments, the installation site must pay the NY System Benefits Charge (SBC) surcharge on their electric bill. NYSERDA will accept applications only from approved CHP system vendors and all incentive payments will be made to the CHP system vendors. IntelliGen is the only New York based manufacturer currently included in the NYSERDA program.
IntelliGen offers a free technical review of your facility to evaluate the potential for CHP as well as well as an evaluation of the ability to meet the NYSERDA eligibility requirements. "IntelliGen has more than 20 years of experience with cogeneration system implementation," Lesser continued. "Our team of experts is available to facilitate the grant application process and as well as all aspects of the cogeneration project. Cogeneration is an excellent way to save money through energy efficiency while lowering your carbon footprint. It is truly a case of doing well by doing good."
Potential applicants are encouraged to contact IntelliGen Power as soon as possible to evaluate the potential for CHP.
For more information, contact David Lesser at dlesser(at)intelligenpower(dot)com
ABOUT INTELLIGEN POWER
IntelliGen Power is a leader in distributed power projects with design, permitting, manufacturing, and operating capabilities and a proven track record going back to 1988. With approximately 300 successful installations, IntelliGen Power focuses on using clean distributed generation that can provide customers an attractive return on investment. IntelliGen Power's manufacturing facility is located in Old Bethpage, NY.
For more information, visit: http://www.intelligenpower.com
IntelliGen – Good for you and good for the environment