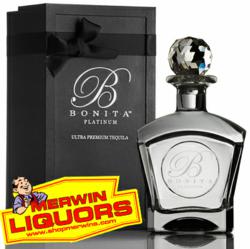 "Bonita Tequila compliments our extensive ultra-premium tequila offering nicely and provides our image conscious customers with an excellent sipping tequila." -Louis Dachis Proprietor, Merwin Liquors
Minneapolis, MN (PRWEB) March 13, 2013
Bonita Tequila will be available immediately via a special online presell at http://www.shopmerwins.com/bonita-tequila.html and on the shelves at all Merwin Liquors locations in Minnesota. Xzibit will be appearing at Merwin Liquors Minneapolis on March 21st from 5-7PM to talk about this new luxury spirit and sign bottles.
Bonita is the world's first five-times distilled tequila, created from 100% blue weber agave from Jalisco, Mexico. It is packaged in pure crystal and wrapped in a satin-lined box, created for a true luxury feel. Bonita is to become the tequila to define a new generation of hip, urban-savvy consumers who enjoy luxurious and artisan products with a modern flair.
"Our company was founded based on a simple idea; that by combining modern technology with centuries-old tradition, we could create an ultra-premium tequila unlike anything the world has ever known." – Chris Brown, Founder and CEO of The Bonita Spirits Company
Xzibit, a well-known artist, actor, and former television host was sent an early sample of Bonita in September of 2012. He was immediately blown away by what Bonita had created.
"The tequila was amazing," Xzibit said. "The packaging was beautiful and dynamic, and the brand was perfect."
"We are excited to be part of the launch for this innovative new product." said Louis Dachis, proprietor of Merwin Liquors, "Bonita Tequila compliments our extensive ultra-premium tequila offering nicely and provides our image conscious customers with an excellent sipping tequila."
Merwin Liquors is a locally owned, privately held company that operates three retail beer, wine and spirits stores in Minnesota. The company offers the widest selection of spirits in the state at heavily discounted prices through their website http://www.shopmerwins.com. For more information about Bonita Platinum and upcoming events, consumers can visit Facebook.com/BonitaTequila or http://www.BonitaSpirits.com