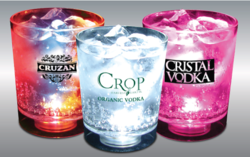 Medley, FL (PRWEB) March 27, 2013
Discountmugs.com has just launched an exclusive line of wholesale acrylic plastic drinkware items. They have been the largest supplier in personalized glassware and are now adding plastic to their collection. They currently have acrylic plastic shot glasses, beer mugs, candy jars, cocktail mixers, pitchers, sampler glasses, wine glasses and many more. Their products are ideal for hospitality businesses such as hotels, restaurants, bars, pubs, lounges and even diners. Serve customers drinks in style with all these creative barware items. DiscountMugs always pride themselves in providing consumers with the finest quality in all of their products while enabling them to buy everything in cheap discount wholesale prices. They will last for years and prevent the need to overspend on restocking barware.
When it comes to promotional events and special occasions, their glass and personalized plastic drinkware items are a great fit. They can all be personalized with logos, images, messages and any kind of graphics. It's the perfect way to advertise a company without exceeding the marketing budget. The majority of products at DiscountMugs can all be customized with colors. Most of their new acrylic plastic drinkware items come in either full color or color can be added to the bottom, depending on the designs and styles wanted. They create unforgettable giveaways at tradeshows or conventions, making an impression on guests and future potential clients.
Discountmugs.com always has their items available to use for events as party or wedding favors. Their new acrylic shot glasses or candy jars are perfect for a major event coming up. Acrylic drinkware can be part of decorations as well as used to serve guests their beverages. Giving them as favors can be an added perk to attending guests. Plus, they will be personalized exclusively to go with the occasion theme with special quotes or images. They will be a guaranteed hit with everyone.
All of the products at DiscountMugs are also perfect for holiday and personal gifts. Give their new acrylic beer mugs to beer lovers or the new plastic whiskey rocks glasses to the scotch drinkers. Promotional plastic shot glasses are sure to be a hit for bars or restaurants. Have them printed or leave them blank. They come in handy to just about anyone receiving them as gifts. Having new drinkware for home accessories is always a plus, and these acrylic plastic drinkware items can add personality and flair to any home with their fun and colorful designs.
Discountmugs.com is always adding new merchandise to be on the lookout for, and more options when it comes to looking for promotional products. Take advantage and browse through their new acrylic plastic collection and customers will definitely find something to suit restaurant and barware needs. Customizing new shot glasses or mugs is simple as they provide easy to use online tools. Purchase them with your graphics or select from a provided gallery of clipart images. Order from DiscountMugs and always get their 110% price match guarantee.