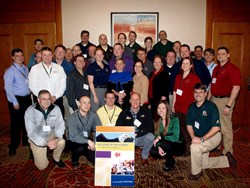 "Our role is to maintain advanced medical service, while staying on the cusp of cutting-edge patient care," said Fryou.
Dallas, TX (PRWEB) March 13, 2013
Acadian was well represented and acknowledged at the EMS State of the Sciences Gathering of Eagles EMS Conference in Dallas, Texas. Each year, the much anticipated symposium showcases state-of- the-art information and advances in EMS patient care, innovative prehospital techniques, managerial methods and lessons learned from the top medical directors in the country.
Acadian Medical Director Dr. Charles Burnell, Quality Improvement Manager Mark Fryou, Acadian's associate medical directors and field training officers, and a number of the National EMS Academy personnel attended this year's conference eager to learn new, significant methods used by highly respected agencies in healthcare.
"Our role is to maintain advanced medical service, while staying on the cusp of cutting-edge patient care," said Fryou. "Acadian strives to progress each and every year and this conference aids in our evolution towards that goal."
Highlights this year included cardiac arrest management, the importance of a well-educated EMS staff, modified triage protocol, trauma care as well as strategies and challenges of coordinating special events. Acadian Ambulance was recognized for their exceptional execution of their involvement with Super Bowl XLVII.
Prior to the conference, Dr. Burnell attended the Eagle Creek meeting. This invite-only session allowed Dr. Burnell to participate in high-level discussions with many prominent players in the medical management field and assist Acadian Ambulance in gaining additional recognition as a quality EMS service.
"Acadian is constantly researching and developing ways to be able to deliver the best patient care we can," said Burnell. "A conference of this magnitude allows our staff to conjure up ideas, digest the information, refine and finish with a substantial and long-term plan of action that will revolutionize Acadian for the better."
Since 1971, Acadian has provided the highest level of emergency medical care and transportation possible. In the past decade, the company has expanded to include a diverse suite of services in health, safety, and transportation. Acadian's six divisions are Acadian Ambulance Service, Acadian Monitoring Services, Air Med, Executive Aircraft Charter Service, National EMS Academy and Safety Management Systems.
###