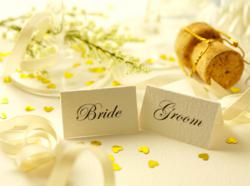 Newport Beach, CA (PRWEB) March 13, 2013
With the new survey from TheKnot.com revealing that the cost of an average wedding has increased to over $28,000 in 2012, brides are continuing to seek out ways to save on their wedding celebration, says Wedding.com.
As the cost of weddings rise, so have the number of ways to cut down on wedding expenses. Experts at Wedding.com suggest that brides look to options such as altering menu selections, swapping out real flowers for fake ones, and giving out less expensive wedding favors. Many brides choose to skip serving a full meal and instead serve finger foods. An article in the Huffington Post advises that serving signature drinks rather than a full cocktail hour makes for a more personalized wedding while also going easy on the budget (http://www.huffingtonpost.com/colleen-mullaney/recessionista-wedding-ideas_b_2819323.html). In addition, the article recommends cutting costs by using faux flowers rather than real blooms. According to Wedding.com, many silk flowers look real nowadays and not only are they less expensive, it also allows floral décor to be made further ahead of time. Favors are another way to scale back wedding costs, and luckily, candy bars are a continuing trend. Bags of candy can be purchased in bulk and fashionably displayed in hurricane vases and apothecary jars.
"The most obvious way to save, of course, is to cut down on the guest list. However, if the guest list cannot be trimmed any more than it already has been, brides have plenty of other options to save money," says Brett Reynolds, CEO of Wedding.com. "The possibilities are endless, and if done creatively, guests will stay completely unaware of any financial constraints."
For more information about Wedding.com, please visit http://www.wedding.com.
About Wedding.com
Wedding.com is an innovative new website that connects engaged couples planning their wedding with wedding vendors looking to grow their business. Wedding.com contacts vendors for couples, giving them the power to compare and negotiate while ultimately saving time and money. With 12,000 couples and 22,000 vendors currently using the website, 105,000 proposals have already been sent since their inception. Vendors range in services from wedding planners, photographers, florists, and DJs to custom invitations, party favors, and much more. For additional information about the company and its services, please visit http://www.wedding.com.