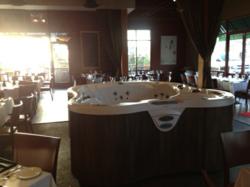 Vista, CA (PRWEB) March 20, 2013
Dimension One Spas (D1) and dealers came together to represent the greatest hot tub crew in the industry as exciting new initiatives were unveiled for 2013 at the Dealer Summit earlier this month.
D1 celebrated 35 years of spa excellence in style with a red carpet event, oceanfront dining, awards, gifts, prizes, and a cocktail hour with some of their favorite hot tubs.
Dealers from across the U.S. and Canada attended the Summit to get a first look at fresh, streamlined branding including new merchandising, consumer promotions, future materials, incentives and of course to kick back with their hot tub family!
Amidst the festivities, collective decisions were made on new hot tub colors, models and designs as well as decisions that will make being a D1 partner even more amazing in the future.
The summit ended with special awards for top dealers, exclusive incentives and many prizes, including the grand prize--a 2013 Meridian hot tub for one lucky dealer! When you're a D1 dealer, there's a lot to feel good about.
###
About Dimension One Spas
Dimension One Spas (D1) is the leading manufacturer of award-winning hot tubs and swim spas and home to the world's first curvilinear spa. Family-own and operated, D1 Spas is based in Vista, CA and sold through a network of dealers in the United States and worldwide. With over 35 years of experience, the company's four product lines and patented features offer a higher class of design, performance and value that meet a variety of consumer needs. For more information about Dimension One Spas, please visit, http://www.d1spas.com.