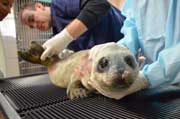 "A good rule of thumb to helping a sick or injured seal pup is to give it space and call our rescue line at (415) 289-7325." - Geno DeRango, stranding and rescue coordinator, The Marine Mammal Center.
Sausalito, CALIF (PRWEB) March 13, 2013
Beachgoers can help young, sick or injured harbor seals and elephant seal pups they encounter by calling one of The Marine Mammal Center's region-specific rescue lines during pupping season. The Marine Mammal Center's public awareness campaign, called Leave Seals Be, reminds people along the Central and Northern California coast to not pick up or disturb these young seals that could still be weaning or have just been weaned. Instead, the Center encourages the public to keep a safe distance and report abandoned or sick animals by calling its 24-hour response line. The Center can then monitor the pup to see if the mother returns or send a trained team to rescue the animal if needed.
"Unfortunately, sometimes people mistakenly believe they are helping a pup when they move or pick the animal up," explained Geno DeRango, stranding coordinator and a rescuer at The Marine Mammal Center. "After receiving a call about a stranded animal, and if there are no outward signs of injury or severe malnutrition, we'll monitor the pup for 24- to 48-hours to see if the mother returns. If she doesn't, we will rescue the pup and give him the medical care he needs at our hospital."
No matter where you are, you should follow these tips in order to help a sick or injured harbor seal or elephant seal pups:

Stay at least 50 feet away from the pup. His mother may be nearby and you'll scare her away.
Do not handle seal pups and keep other people and dogs away.
North of Santa Cruz County, call The Marine Mammal Center's 24-hour response hotline at (415) 289-7325 or 289-SEAL.
In Monterey and Santa Cruz Counties, call The Marine Mammal Center at (831) 633-6298.
In San Luis Obispo County, call The Marine Mammal Center at (805) 771-8300.
Why Leave Seals Be?
Knowledge is power, and The Marine Mammal Center's work to inform the public on how they can positively help elephant seal and harbor seal pups during the critical pupping season (which takes place March through June) is the key to giving many of these animals a second chance at life. The Center's mission is to expand knowledge about marine mammals – their health and that of their ocean environment – and to inspire their global conservation. At the core of this effort is the safe and effective rescue and rehabilitation of hundreds of sick and injured marine mammals each year, supported by state-of-the-art animal care and research facilities, a team of dedicated staff and volunteers, and an engaged community.
The Marine Mammal Center reminds people that picking up, disturbing or harming marine mammals is illegal and punishable by law under the Marine Mammal Protection Act of 1972. Only trained, authorized responders, like volunteers and staff at the Center, are allowed to do so. The Center's veterinary staff and volunteers strive to provide the medical care needed for patients to become healthy and be able to go back to the ocean. In 2012, the Center was able to rehabilitate and return more than half of its 504 patients back to the wild.
To learn more about the Leave Seals Be campaign and how you can help marine mammals, visit MarineMammalCenter.org/LeaveSealsBe.
About The Marine Mammal Center:
The Marine Mammal Center is a nonprofit veterinary hospital, research and educational center dedicated to the rescue and rehabilitation of sick and injured marine mammals - primarily elephant seals, harbor seals and California sea lions - and to the study of their health. The Center is headquartered in the Marin Headlands, Sausalito, CA, within the Golden Gate National Parks and since 1975, has rescued and treated more than 17,500 marine mammals. The Center's newly rebuilt headquarters in Sausalito gives visitors the unique opportunity to learn about marine mammals through viewing areas and educational exhibits. Now on display in 2013 is the Ghost Below - a thought-provoking art exhibit that illustrates the dangers of ocean trash on marine mammals and the environment.
The hospital is free to visit and is open to the public daily 10 A.M.-5 P.M. except for Thanksgiving, Christmas and New Year's Day. For more information and to sign up for the Center's eNewsletter, go to: MarineMammalCenter.org
###