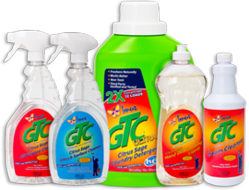 Our finished products have never been – and never will be – tested on animals, said Deirdre Imus
New York, NY (PRWEB) March 19, 2013
GTC™ Greening The Cleaning® is thrilled to announce that our retail line of products now carries the Leaping Bunny certification, indicating our deep and continued commitment to making cruelty-free products that are never tested on animals. GTC™ products contain naturally- occurring plant and mineral-derived ingredients and essential oils and are not formulated with petroleum-based or petrochemical components. We proudly disclose all ingredients and their origin.
"Our finished products have never been – and never will be – tested on animals," said Deirdre Imus, founder and president of The Deirdre Imus Environmental Health Center® and creator of GTC™ Greening The Cleaning®. "The Leaping Bunny Program helps guide consumers toward products that are not only healthier for their own bodies, but that are also kind to the countless innocent animals living in our midst."
Founded in 1996, the Coalition for Consumer Information on Cosmetic's (CCIC) Leaping Bunny Program provides the best assurance that no new animal testing is commissioned in any phase of product development by a company, its laboratories, or suppliers. Support cruelty-free products like GTC™ by always looking for the Leaping Bunny logo, and using your wallet to drive more companies to follow similarly responsible practices.
GTC™ products were developed at a leading hospital, and are safe enough for children's playrooms. For more information or to purchase for GTC™ your home or business, please visit GreeningTheCleaning.com, or call 1-888-284-IMUS.