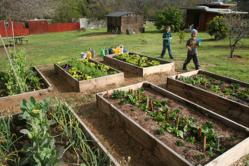 Every day is Earth Day at Highland Hall.
Northridge, CA (PRWEB) March 12, 2013
On Sunday, April 21, from 4 - 7 pm, Highland Hall will celebrate Earth Day by hosting an outdoor "Farm to Table" dinner on its biodynamic farm, sponsored by the school's own Garden Gnome Society. The menu will be prepared by Highland Hall alumnus, Chef Remedios Loosli, founder of The Heart of Cooking, using freshly harvested ingredients from the school's garden beds and orchard. Local folk musicians will provide the entertainment. Pre-dinner activities include a tour of the garden beds, orchard, bee yard, and brand new twenty-hen chicken coop. There will also be lots of activities for the children including bread baking with Chef Reme using the school's earthen oven. Tickets are $20 for adults and free to children 12 and under. They may be purchased at http://bit.ly/WGiHKG.
"Every day is Earth Day at Highland Hall," says Highland Hall's administrative director, Lynn Kern. "Biodynamic gardening classes are an integral part of the Waldorf curriculum we provide at our school. Sustainable farming practices taught here support the earth and inspire our students to be passionate stewards of the environment when they leave this campus."
While Highland Hall has always maintained a sustainable garden over its 55 year history, it wasn't until the school hired biodynamic gardener, Nitza Bernard that the school began offering gardening classes for adults.
"We're delighted that our farm has grown to such an extent that we're able share the experience of our biodynamic produce, and the beauty of our farm with the greater Los Angeles community," says Bernard."It's my goal to develop a student run CSA, where we can offer the community fresh organic produce on a regular basis right here in the heart of Northridge. But for now, we'll start with dinner!"
Though running a CSA (Community Supported Agriculture) or farmers market is a hope for the future, Waldorf schools were recently recognized as exemplary in the depth of their environmental education. The Captain Planet Foundation, chaired by Ted Turner, noted the schools' efforts to transform the world by educating ecologists from early childhood through the twelfth grade. At its annual gala this past December, the Foundation presented AWSNA (the Association of Waldorf Schools of North America, of which Highland Hall is a founding member) with the Green School Award. Patrice Maynard, outreach director of AWSNA, was told by Becca Iverson, development coordinator for Captain Planet, that the foundation members "are in awe of what we do for the earth in the way we teach."
Highland Hall Waldorf School is located in Northridge, California. Founded in 1955, it is the oldest Waldorf School in the western United States and offers an independent alternative to public and other private schools, providing the Waldorf Curriculum from Early Childhood through High School graduation.