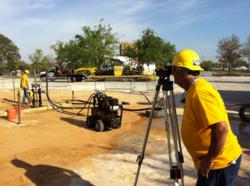 Tampa, FL (PRWEB) March 13, 2013
Sinkhole conditions were identified mid-February, on the east side of the campus near the USF/Patel Elementary school. Due to several wells that were in proximity of the sinkhole, students were required to follow a precautionary boil water notice for several days.
According to the USF Geology Department, "The USF area is an active cover-collapse sinkhole region. The USF campus has experienced more than 30 cover-collapse events in its 40 years of operation. This results in a frequency of about one cover-collapse sinkhole per square mile per year."
Helicon Foundation Repair is known for residential sinkhole remediation projects throughout the state of Florida; however, the company also completes a significant number of commercial sinkhole remediation projects each month.
About Helicon Foundation Repair
Helicon Foundation Repair is a leading provider of foundation and sinkhole repair. Experts in compaction grouting, slurry and chemical grouting, underpinning, helical piers, and grout injection piers, Helicon Foundation Repair has successfully completed thousands of foundation and sinkhole remediation projects in Hillsborough, Pinellas, Hernando, Polk, Pasco, Citrus and Marion counties. For more information, please call 813-567-1065.