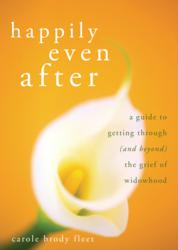 (PRWEB) March 13, 2013
In late breaking news, Publishers Weekly released the winners of the Books for a Better Life Award. Southern New York Chapter of the National Multiple Sclerosis Society presented the winners of the 17th Annual Books for a Better Life Awards March 11 during a ceremony at The Times Center in Manhattan. The awards honor self-improvement authors whose messages are aligned with the chapter's mission of inspiring people to live their best lives. Since its inception in 1996 the event has raised $2 million.
Carole Brody Fleet won her award for Happily Even After in the Relationship category. Carole also has a blog on Huffington Post where she discusses common concerns for widows.
Carole Brody Fleet is the award-winning author of "Happily Even After: A Guide to Getting Through (and Beyond) the Grief of Widowhood." She is the Founder and Chief Executive Officer of Widows Wear Stilettos, Inc. dedicated to helping the widowed of all ages and from all over the world find support, education and community. Widely recognized as a leader in the areas of grief and loss recovery, Ms. Fleet has appeared on "Good Morning America," "The CBS 2 Evening News" and many other regional programs all over the country. Ms. Fleet regularly appears as a guest expert on numerous radio programs nationally and internationally and has been featured in publications such as USA Today, The New York Times, The Chicago Tribune, Women's World Magazine, More Magazine, Shape Magazine, Psychology Today Magazine and hundreds of other newspapers, magazines and websites both nationally and internationally.
Join Carole at these events:
4/14: National Fallen Firefighters Survivors Conference, Phoenix, AZ
4/18: Camp Widow East Coast, Myrtle Beach, SC
6/28: Camp Widow West Coast, San Diego, CA
You can also tune in to On Purpose Radio on May 2nd to hear Carole Brody Fleet. Happily Even After is also available in audio book through Audible.
Acquiring Editor and Associate Publisher of Viva Editions, Brenda Knight, said, "I acquired this book to help people like me who had no tools and no one to turn to. I knew Carole Brody Fleet's hug heart and hard-earned experience would help thousands of families through and beyond grief so they could one day live happily even after. Viva Editions could not be more proud of Carole and her achievement."