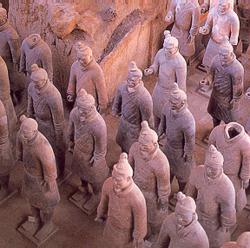 With EO's new travel and study in China program U.S. High School students can visit the Terracotta Warriors on a compressed 4 week cultural exchange program.
Washington, DC (PRWEB) March 14, 2013
Educators Overseas (EO), one of North America's premier international teacher recruiting companies, is expanding its commitment to fostering international cultural exchanges and opportunities to interact with other civilizations. EO has partnered with the Shenzhen Institute of Continuing Education and China's Shenzhen Ministry of Education, to sponsor an exciting new cultural immersion program for U.S. high school students to study in China for just 4 weeks. The compressed 4 week program shares the purpose of cultural exchange, but with the added elements of study, travel, and language learning. EO has partnered with the Government of Shenzhen to offer two teachers and a group of 7th and 8th grades students the opportunity to live and study for 4.5 weeks in China, on a compressed study abroad and cultural immersion program. "It just all made sense: why not move beyond our primary line of activity, placing teachers in foreign schools, be creative and really use EO as an organization bridging cultures", says Christy Grimste, executive director at EO.
One might wonder what bridging culture actually means in this case. In this cultural immersion program students will bridge cultural divides by staying with a local Shenzhen family and taking a crash course in Mandarin, but also by taking advantage of the opportunity to visit some of the most exciting and popular tourist attractions, or Chinese treasures. "We really wanted to create a full package that takes into account the needs of both the students and the teachers. We wanted to combine it all into one: travel, learning, teaching experience, culture exchange", mentioned Grimste. The full package includes three weeks of cultural immersion and studying abroad, as well as 9 days of traveling the best sites in China, including the Terracotta Warriors in Xi'an and the Great Wall in Beijing.
The best part: because the trip is being subsidized by the Shenzhen Ministry of Education, EO has been able to keep this amazingly affordable, and yes nearly "cheap", at least considering what normal trips to China cost. Students pay just $2995 for the whole package, including air fare and food, while teachers receive $1000 plus all travel expenses, air fare, and room and board. Sounds like a deal; who is in?
Since 2007 Educators Overseas has been helping native English speakers find excellent jobs teaching ESL in China and other K-12 subjects around the world. For more information about Educators Overseas, about studying in China, or about teaching jobs abroad, visit their website at educatorsoverseas.com.