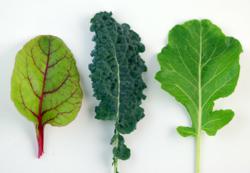 When it comes to nutrition per calorie nothing surpasses leafy green vegetables.
Arlington, VA (PRWEB) March 14, 2013
While Saint Patrick's Day's "go green" campaign typically conjures up images of parades inundated with green clad revelers guzzling green drinks, it's also a great reminder that we should all try to incorporate more healthy, natural green foods into our everyday menus as part of a healthy lifestyle. To Go Green this Saint Patrick's Day, try consuming more leafy green vegetables. According to WebMD, consuming more leafy greens is considered to be the number one activity individuals can do to improve their health.
Here are three of the most beneficial leafy greens to eat, along with easy recipe ideas:
Kale tops the list as a nutrition powerhouse. It is considered to be one of the most nutritious vegetables on the planet. Kale's nutrient abundance provides benefits in three particular areas: (1) antioxidants, (2) anti-inflammatories, and (3) anti-cancer nutrients. It is an excellent source of Vitamin A, has nearly as much Vitamin C as an orange and is a good source of fiber. Kale is an excellent ingredient for quick and healthy snacks. Try baking a batch of kale chips for a savory snack instead of fried potato chips, or for something sweet, blend it into a fruit smoothie for a healthy boost without the vegetable taste.
According to American Institute for Cancer Research, collards are a strong contender to kale with their cholesterol lowering and cancer-preventive properties. They are also extremely high in Vitamin K, which helps strengthen bones and protect the heart. Collards are usually more popular in southern style dishes but their appeal is becoming more widespread. A simple way to add more collards to your diet is to use a large collard leaf as an alternative to a sandwich wrap when making tuna or chicken salad. Not only is this delicious, but it will save you 100-300 calories by nixing the tortilla. Another idea to try is adding a cultural twist; cook up Asian-Style Collard Greens using Flax Seasoning.
Spinach is an excellent source of calcium, magnesium, and antioxidants such as Vitamin C, E, and manganese. Popeye had the right idea when he was consuming can after can of spinach. Though spinach may not give you Popeye's instant biceps, it still packs a powerful nutritional punch that can be easily incorporated into meals. Use spinach leaves instead of iceberg lettuce when making a salad or add them to an omelet for a powerful breakfast. Try using this savory muffin recipe from Flax Seasoning; a sausage patty can be added to it for a delicious breakfast.
When it comes to nutrition per calorie nothing surpasses leafy green vegetables. Whether considering its large doses of essential vitamins and minerals or high amounts of antioxidants, leafy greens have proven to be the corner stone of healthy eating. So while celebrating Saint Patrick's Day this year, be sure to Go Green by adding more leafy greens to your diet.