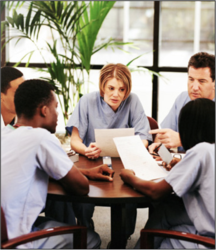 With this release, we make it easier for employers to provide safety training for their employees.
Chicago, IL (PRWEB) March 14, 2013
Spectrum OSHA Training, Inc. located in Chicago Surburb will now conduct OSHA Safety Training On-Site and Monthly in different locations throughout Chicagoland.
Occupational Safety and Health Administration (OSHA) requires that training be an essential part of every employer's safety and health program for protecting workers from injuries and illness.
According to OSHA, more workers are injured in the healthcare industry sector than any other. Healthcare workers face a number of serious safety and health hazards. They include bloodborne pathogens and biological hazards, potential chemical and drug exposures, waste anesthetic gas exposures, respiratory hazards, ergonomic hazards from lifting and repetitive tasks, hazards associated with laboratories, and radioactive material and x-ray hazards.
The following topics are cover during the OSHA Training for Healthcare Providers:
A. Bloodborne Pathogens
B. Hazard Communication
C. Hazardous Waste
D. General Office Safety
E. Ergonomics
F. Personal Protective Equipements (PPE)
G. Emergency Planning
H. Fire Protection and Prevention
I. Recordkeeping and Reporting
Healthcare Providers include physicians, nurses, technicians, clinical laboratory workers, first responders, building maintenance, security and administrative personnel, social workers, food service, housekeeping, and mortuary personnel. These providers can be found in a variety of workplace settings, including hospitals, nursing care facilities, outpatient clinics (e.g., medical and dental offices, and occupational health clinics), ambulatory care centers, and emergency response settings.
For more information on this new release of Spectrum Training Services, Inc, call +1-877-366-0611 or email info(at)illinoisoshatraining(dot)com.
About Us
Spectrum Training Services, Inc's mission is to provide training that is effective and will lead to a decrease in job site injuries, accidents, and deaths. The Spectrum System is the perfect way to bring your facility into OSHA compliance quickly and inexpensively.
Contact us for more information and questions.
877-366-0611
info(at)illinoisoshatraining(dot)com
http://www.illinoisoshatraining.com