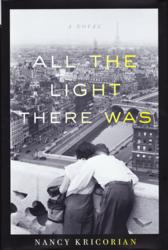 While researching the novel, I read voluminously about Paris during World War II—memoirs, histories, collections of letters, and novels. . . . Then I walked the streets of Belleville, and met with Armenians who had lived through the Occupation.
New York, NY (PRWEB) March 14, 2013
Nancy Kricorian's All the Light There Was is a stunning novel about an Armenian family's struggle to survive the Nazi occupation of Paris in the 1940s. Meticulously researched and lyrically told, All the Light There Was is an unforgettable story of loyalty, love, and the many faces of resistance.
Against the fascinating backdrop of World War II-era France, All the Light There Was explores the Armenian immigrant experience through the eyes of a precocious young heroine. At the start of the Nazi occupation, fourteen-year-old Maral Pegorian is living with her family in Paris; like many others who survived the genocide in their homeland, they've come here to build a new life. As the Nazis march down the Rue de Belleville, the adults brace for the suffering and oppression they know all too well, but to the children, it's a new, bewildering experience. The story follows Maral, her brother Missak, and her beloved Zaven as they learn to fight and try to survive over seven harrowing years.
All the Light There Was shows us occupied Paris as we've never seen it before – a would-be safe haven from persecution and genocide, tragically undermined by the Nazi occupation. Inspired by the life of resistance leader and Armenian Genocide survivor Missak Manouchian, Kricorian delved into the Armenian experience in Paris during World War II, interviewing survivors, including the last living member of Manouchian's team. With a light hand and a poetic sensibility, Kricorian weaves her exhaustive historical research, her own Armenian heritage, and her lifelong commitment to human rights causes into this beautiful and haunting tale.
"Solid and touching. Readers are instantly drawn into this world, full of hardships of wartime occupation and references to the Armenian genocide of the previous generation. Thanks to multifaceted characters, Kricorian's treatment of family dynamics and love under extreme circumstances creates an emotional read."
—Publishers Weekly
"An important addition to the WWII fiction shelves, this is bound to spark discussion."
—Booklist
For more information, visit http://nancykricorian.net.
All the Light There Was
A novel by Nancy Kricorian
Houghton Mifflin Harcourt
ISBN: 978-0-547-93994-0, hardcover, 279 pp., $24.00; also available as an e-book
Nancy Kricorian, author of the novels Zabelle and Dreams of Bread and Fire, is a widely published essayist and activist. After graduating from Dartmouth, Nancy studied and worked in Paris before earning an MFA in writing at Columbia University. As an activist, she is involved with CODEPINK: Women for Peace and the Occupy Wall Street Global Justice Working Group. She lives in New York City.
Media contact:
Victor Gulotta
Gulotta Communications, Inc.
617-630-9286
http://www.booktours.com
victor(at)booktours(dot)com
###
A Conversation with Nancy Kricorian
*What inspired you to write All the Light There Was?
I came across a 1984 French documentary entitled Terrorists in Retirement (original title Des terroristes à la retraite) that told the story of a French Communist Resistance network made up of immigrant workers. The network's leader was an Armenian poet named Missak Manouchian. In late 1943, the Germans arrested Manouchian and twenty-two members of his group, which was comprised of Eastern European Jews, Armenians, and Italian and Spanish refugees. The men were executed by firing squad at Mont Valérien in February 1944. The sole woman was executed by beheading in Germany some months later.
After reading a little more about Missak Manouchian, an Armenian Genocide survivor who immigrated to France in 1925 when he was nineteen years old, I realized I had so many questions: How did the Armenian community of Paris live the four years of the Nazi occupation? What had it felt like for Genocide survivors who had rebuilt their lives in France to look out the window on German troops marching down the Rue de Belleville? All the Light There Was grew out of these questions.
*How did you come to meet these Armenians still living in Paris?
While researching the novel, I read voluminously about Paris during World War II—memoirs, histories, collections of letters, and novels written during the war and immediately afterwards. (I have the advantage of being able to read French.) Then I made several research trips to Paris during which I walked the streets of Belleville, and met with Armenians who had lived through the Occupation.
During my research trips, an Armenian friend named Hagop was my "fixer," for which I am forever indebted. He located for me an Armenian woman who was seven years old when the German troops had marched down the Rue de Belleville. She told me how her family had briefly hidden one of her schoolmates whose family had been taken during the infamous Vel d'Hiv roundup of Jews in July 1942.
Hagop and I went to visit an Armenian nonagenarian who had been an amateur actor in the Parisian Armenian community theater and a member of the Hunchak (Communist) resistance. He repeated several times the story of an Allied bomb that had gone astray in his Paris neighborhood, upending a rabbit hutch and killing his wife. He repeated, almost in wonder, "My wife was dead, but all the rabbits were still alive."
Hagop also arranged a meeting with Arsène Tchakarian, one of the last surviving members of the Manouchian Group, the Communist resistance network of immigrant workers immortalized in "L'Affiche Rouge." Tchakarian has devoted his life to documenting the work and the lives of his friend Missak Manouchian and other members of the Resistance who were executed by the Nazis at Mont Valérien. These stories and many others were in my head as I sat down to write in the voice of Maral Pegorian.
*Are the characters based on real people?
In order to create the characters in my novels, I collect stories. It's like being a collage artist, or maybe more like a bird building a nest with twigs, grasses, old feathers, bits of twine, and other scraps. The principal characters in the novels are not direct representations of real people—they are composite and fictional characters.
*Was there anything that you learned in doing the research that surprised you?
Several things surprised me: one was hearing about Soviet Armenians who had ended up in the German Army; another was learning about the role that French entertainer Charles Aznavour and his family had played in the Resistance; and the third was how these two things were related.
Late in the Occupation, some Soviet Armenians appeared in Paris in German uniform. They were Soviet soldiers who had been captured on the battlefield and then held in P.O.W. camps in Poland under terrible conditions. They were pressed into the German Army, choosing the Wehrmacht over probable starvation. The Germans didn't trust them on the Eastern Front, so they were sent to France to work on the Atlantic wall. When these Armenians were given leave, they often came to Paris where the local community held cultural evenings to welcome them.
The Aznavour family's contribution to the Resistance was inviting these soldiers to their home and trying to convince them to desert the German Army. If they agreed, the Aznavours would give them civilian clothes and help them to go underground. Charles Aznavour, who was nineteen at the time, was responsible for the nighttime task of dumping the deserters' boots and uniforms into the sewers of Paris.