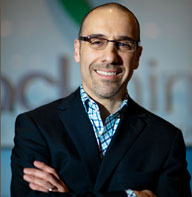 (PRWEB) March 13, 2013
Back9Network, a lifestyle multiplatform media company, announced today that longtime digital and media executive Carlos Silva will join the network as its president. Silva will work alongside Back9Network CEO and founder James Bosworth and COO and founder Reid Gorman, bringing his more than 25 years of experience to the world's first multiplatform lifestyle and entertainment golf destination.
"We are thrilled to welcome Carlos to Back9Network and officially name him as president," said James L. Bosworth, CEO of Back9Network. "Carlos's extensive experience in building networks from the ground up and creating compelling multiplatform destinations aligns perfectly with the mission of Back9Network. With Carlos on our leadership team, we are even better positioned to grow the network through new distribution avenues and unique partnerships."
Silva has advised Back9Network for the past two years through his position as partner and managing director at Park Lane, an investment banking firm that services the sports, media, and business industry. Silva will now serve in an official capacity overseeing the production, distribution and day-to-day operations of the Back9Network on a full-time basis, while remaining a partner at Park Lane.
Silva's experience includes the launch and growth of multiplatform networks, including Universal Sports Network where he was president and COO for four years and executed capital raising, distribution, and sports rights agreements. Prior to Universal Sports, he oversaw three marquee web destinations in AOL Sports, AOL News and AOL Money.
Silva holds a master's degree from George Washington University and a bachelor's degree from Boston College, where he was a Big East champion tennis player.
Back9Network, which made its online debut in 2012, is focused on all the things golf fans love about playing and living the game. Back9Network has started construction on its state-of-the-art TV studio and video production facility in downtown Hartford, Conn., which is quickly becoming the sports media capital of the world with ESPN, NBC Sports and YES Network also based in the state. Back9Network plans to launch its TV programming lineup via cable and satellite in 2013.
About Back9Network: Back9Network, based in Hartford, Conn., is a lifestyle multiplatform television network and media company. Back9Network was developed as a complementary alternative to traditional media's focus on professional golf tournament coverage. Focused on compelling storytelling, interesting personalities, features and fashions, interviews and instruction, travel, gear and so much more, fans of all kinds will want to hang with the Back9Network. Back9Network.com, the online clubhouse for Back9Network, delivers a fresh perspective on the golf lifestyle and its worldwide influence. Back9Network's leadership includes respected and outspoken executives from the golf and media industries. Clint Eastwood serves as chairman of the Back9Network Creative Committee. For further information, visit http://www.Back9Network.com.
Media Contacts:
Megan Bondi
mcwbondi(at)gmail(dot)com
404-933-1610
Les Schupak
lesschupak(at)back9network(dot)com