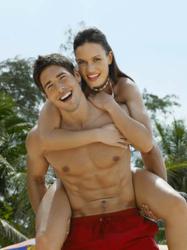 People get laser hair removal on all parts of the face and body. No one should feel embarrassed by unwanted hair
Raleigh, NC (PRWEB) March 13, 2013
Laser hair removal in Raleigh is a popular procedure that provides permanent hair reduction. The Aesthetic Laser Center at Blue Water Spa has performed laser hair removal in Raleigh since 2004. Blue Water Spa is one of the top providers of laser hair removal in the US, performing over 100,000 treatments since 2004.
Many people interested in laser hair removal are unsure as to where this produce can be performed. Laser hair removal can be performed on both men and women of all skin types, anywhere on the face or body where smooth skin is desired. Blue Water Spa lists the most common areas of laser hair removal, in order of popularity.
1) Women's lip and chin
2) Women's full face
3) Women's forearm
4) Men's back of neck
5) Women's brazilian bikini*
6) Women's full leg including toes
7) Men's back
8) Women's belly
9) Men's shoulders
10) Women's breasts
11) Men's chest
12) Women's buttocks
13) Women's traditional bikini
14) Women's between eyebrows
15) Men's abdomen
16) Men's full leg
17) Mankini - man brazilian bikini*
18) Men's buttocks
19) Women's back
20) Men's arms
Brazilian bikini laser hair removal can mean different things to different people. The laser technicians at Blue Water Spa have very specific discussions during a consultation about what you want. You can choose A, B, C, D, E, or a variation of the options presented. The technicians at Blue Water Spa even mark the area with a white eye pencil so there is NO DOUBT about what you want.
There is no judgment about what a patient wants or why. Blue Water Spa has treated models, elected officials, athletes, pastors, physicians and teachers in Raleigh, NC. The technicians at Blue Water Spa are always professional, warm and completely discreet. So many people think they are the only one with unwanted hair in a particular area. Blue Water Spa wants to share the real facts about laser hair removal. Laser hair removal, when performed with the right person and the right laser can be a wonderful, life changing experience.
For more information about laser hair removal at Blue Water Spa in Raleigh, NC, visit http://www.bluewaterspa.com/laser-hair-removal.html
About Blue Water Spa:
Blue Water Spa has been voted best medical Spa in America for seven years by American Spa magazine, Best Medical Spa by Skin Inc. and Best Spa in the Southeast by Les Nouvelle Esthetique. Blue Water Spa is one of the top 25 corporate philanthropists in the Raleigh area as reported by the Triangle Business Journal. In addition to national awards and recognition for philanthropy, Blue Water Spa has received countless local "best of" of awards.