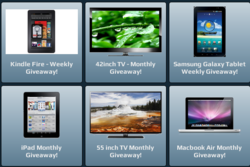 "The prizes are drawing in a large audience to Red Rock Insights," said RedRockInsights.com rep Dan Stevens. "It is encouraging to see that web users are enjoying not only the free prize drawings, but the information about the stock market, as well."
Los Angeles, CA (PRWEB) March 13, 2013
RedRockInsights.com will offer more exciting prizes to its members this week: an iPad, a Kindle Fire, and a Samsung Galaxy Tab. The new website, which features financial news and tips, gives away high-end gifts to some of its members to make learning about the stock market more fun.
Drawings for prizes occur every week at Red Rock Insights. On Tuesday, four lucky members discovered that they had each won a high-tech gift, including an iPad mini. In addition to these more expensive items, the website gave away many $25 gift cards to Amazon and iTunes on a first come, first serve basis.
"The prizes are drawing in a large audience to Red Rock Insights," said RedRockInsights.com rep Dan Stevens. "It is encouraging to see that web users are enjoying not only the free prize drawings, but the information about the stock market, as well."
Simply for joining the site, members are automatically entered into the iPad drawing. By completing quizzes, commenting on the site, and sharing their scores on social media sites, members can obtain additional points. These points are then redeemable for entry into the sweepstakes for other prizes. Members must cash in these points by Sunday at 11:59 pm to be eligible for this week's drawings.
Kim, a mother from Fargo, North Dakota, won this past week's Samsung Galaxy Tab. She admits she was initially hoping to snag a gift card, but then took a shot at the prize drawings. "Sooo happy I did!" Kim wrote on the Red Rock Insights Facebook page.
RedRockInsights.com members are already able to enter the monthly prize drawings which feature the biggest prizes of all: large screen televisions (55" and 42"), a Surface Tablet, and a Macbook Air laptop. Although that drawing will not occur for another two weeks, members with their eyes on these expensive gifts are currently collecting points.
Not everyone is visiting the site for the prizes, though. RedRockInsights.com also has short but simple lessons on the economy. Users who are curious about bonds, the stock market, credit unions, interest rates, and personal financial tips can educate themselves on these topics in the Learning Center.
Once Red Rock Insights users have a firmer grasp on finances, they can head over to the quizzes section and participate in a series of fun tests. Users can put their knowledge of Wall Street, risky investments, and dividends to the test, plus learn some new facts as they play.