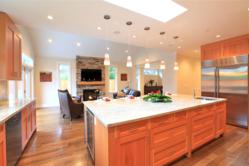 "When you have all this, nothing else can come close; I have lived here on the North Shore my whole life and would never want to make my home anywhere else."
Michelle Vaughan Realtor©
Vancouver, BC, Canada (PRWEB) March 14, 2013
In recent years Vancouver, British Columbia has become has become an increasingly popular mecca for foreign investors to purchase Real Estate. With a stable economy, vast natural resources, well-educated population, and a very liberal foreign investment and immigration policy, Vancouver has become well known internationally as offering financial growth and stability in a world of economic uncertainty. "It is easy to see why so many locals and foreigners are eager to invest in Real Estate here when these factors are taken into account," says Realtor© Michelle Vaughan.
In the most recent Global Liveability Report (2012), The Economist Intelligence Unit ranked Vancouver as third in the world, which was unchanged from the previous year. In fact, it was the first city to rank in the top 5 of this report for over ten years in a row. The Mercer Quality of Living Survey ranks Vancouver in 5th place globally.
Combine this strong economic growth, and high rankings from internationally respected reports, with the staggeringly beautiful natural surroundings and mild climate of Vancouver it is obvious why its Real Estate sales are gaining popularity so quickly. Vancouver's North Shore, as it is called by locals, comprised of North and West Vancouver, has seen enormous growth in the Real Estate market in recent years as overflow from the Vancouver market reaches into the smaller municipalities.
The appeal of both of these municipalities is the diverse lifestyle choices offered, along with world class educational programs, from the Elementary to the University level, and varied Real Estate choices that range from luxury high end homes to more modest properties. The Lions Gate Bridge connects North and West Vancouver to the much more cosmopolitan city of Vancouver.
According to Realtor© Michelle Vaughan, the North Shore was a well-kept secret by local residents and Californian celebrities until 2011, when the Vancouver Real Estate Market went through the roof, thanks to off shore investors. "It was only a matter of time," says Realtor Michelle Vaughan, "before people realized that some of the top schools, according to the Fraserview Ratings, in BC are found in North and West Vancouver, and that the proximity to Vancouver, coupled with the natural amenities, would make this a popular relocation and investment area."
Realtor© Michelle Vaughan tells us there are so many reasons to make North or West Vancouver home and enjoy all the benefits of great recreation facilities, arts, beaches, mountains, beautiful scenery, and top notch schools, while knowing that the big city with world renowned restaurants, shopping, nightlife, and a variety of other entertainment options is only minutes away. As an added bonus, if home is in North or West Vancouver it is only an hour and a half's drive from Whistler Blackcomb Ski Resort, consistently rated in the top 5 winter destinations in the world.
According to The Real Estate Board of Greater Vancouver, "The North Shore is more than just a spectacular backdrop for one of the world's most scenic cities. Few places offer visitors the opportunity to spend the morning skiing and snowboarding, followed by an afternoon picnic on the beach watching the cruise ships sail by, and topped off with an exquisite dining experience."
Those who live there in these family friendly neighbourhoods, tucked in between the ocean and the mountains say it is a wonderful place to call home and the most beautiful place in the world. Realtor© Michelle Vaughan agrees. "When you have all this, nothing else can come close; I have lived here on the North Shore my whole life and would never want to make my home anywhere else. When it comes to investing, it doesn't look like you will go wrong in Vancouver." The Conference Board of Canada predicts over the next four years, Vancouver's economy will grow by 3.3 per cent annually, one of the fastest rates of growth in the country.