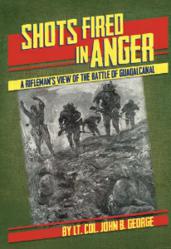 Lieutenant Colonel John B. George recounts his brutal experiences in frontline jungle warfare and examines the weapons, tactics, equipment, and combat mentalities that won and lost the fight.
Atlanta, GA (PRWEB) March 13, 2013
Shots Fired in Anger is the true story of a rifleman on the frontlines of Guadalcanal—and the weapons and tactics that kept him alive. George fights in the foxholes and jungles, experiments with captured weaponry, and interviews both his fellow GIs and Japanese POWs, showing in unrivaled detail why the American soldier emerged victorious.
George opens up with a quick recounting of his civilian marksmanship experience and his military training in all its inglorious shortcomings, then dives into the fight for Guadalcanal. In the words of Sterling Mace, author of "Battleground Pacific: A Marine Rifleman's Combat Odyssey in K/3/5," "Jungle warfare couldn't have been better written than the words of Col. George." It's a grueling account. George and his fellow soldiers hack through malaria-riddled rainforests, cower from friendly naval bombardments and stand against the terrifying Banzai charge. Yet not all is dark: the rigors of war are broken up with humor and adventurous detours whenever possible.
In the last section of the book, George combines the knowledge and experience gained as an officer and confessed gun fanatic to dissect the tools, methods, and combat psychologies that defined the campaign. Detailed mechanical descriptions of weapons and equipment are accompanied by true stories of their use on the battlefield. George lays bare the strengths and weaknesses of both their design and their utilization, providing a brilliant analysis that's as important today as it was when first published in 1947.
Robert C. Lovell, author of "UNLIKELY WARRIOR - A Small Town Boy's View of WWII," writes that "This book gives the best view of what World War II was like in the Pacific Theater of any I have read." Canton Street Press agrees. Shots Fired in Anger is as important and relevant today as it was when first published in 1947.
Canton Street Press specializes in restoring out-of-print books of historical significance. Visit http://www.cantonstreetpress.com/ to preview Shots Fired in Anger and other Canton Street Press publications.
Publication details: Release Date: March 13, 2013; Author: John B. George; Format: Hardcover; Specs: 6"x9", black and white, 432 pages; Price: $27.99 (USD); ISBN: 978-1-934044-29-2 Available: Baker & Taylor, Amazon, Barnes & Noble and other book sellers