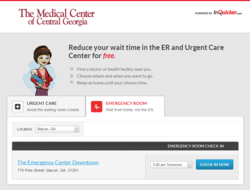 InQuicker is a fantastic service like no other for timely diagnosis and treatment. - Dr. Tim Longaker, MCCG Medical Director of Urgent Care
NASHVILLE, Tenn. (PRWEB) March 13, 2013
Waiting is hard enough, but illness or injury can make an uncomfortable experience even worse. One health IT company, InQuicker (http://www.inquicker.com), is currently working with hundreds of hospitals and clinics nationwide to enable patients to wait from the comfort of home - leaving both patients and providers extremely satisfied.
Medical Center of Central Georgia, a part of Georgia Health System and the second-largest hospital in Georgia, recently announced that it has served more than a total of 25,000 patients using the InQuicker Online Waiting Service at its Emergency Center in downtown Macon, GA and three area Quick Med Urgent Care Centers. The milestone comes less than a year since MCCG served its 10,000th InQuicker patient.
Hospital administrators attribute the growing popularity of online waiting to the platform's ability to meet rising expectations on the part of health care consumers in the areas of convenience and online access to timely care. InQuicker is available at more than 200 emergency rooms, urgent care centers, and physicians' practices nationwide.
"InQuicker is a fantastic service provided by The Medical Center of Central Georgia for people in the central Georgia area with minor emergencies and illnesses. It is a service like no other for timely diagnosis and treatment," says Dr. Tim Longaker, MCCG Medical Director of Urgent Care.
For ER and urgent care visits, the service provides patients with projected treatment times, which are based on real-time patient traffic data, and enables them to wait from the comfort of home rather than the waiting room. In the event of a delay, patients are provided updated projected treatment times via automated phone and email alerts. For primary and specialty care visits, patients can instantly schedule online appointments, 24/7.
Health reform legislation and the changing expectations of today's patients are placing tremendous pressure on hospitals to maintain high standards of non-clinical care in the midst of decreasing revenues and plummeting reimbursement rates.
While some health care providers are playing the waiting game to see where the industry goes, others such as Medical Center of Central Georgia are adopting technology to achieve increased patient satisfaction for higher reimbursements, improved ER patient flow management, and considerable market differentiation in an ever-evolving and increasingly competitive health care landscape.
"We chose to partner with InQuicker because of the company's status as the nation's first and most widely-adopted provider of an online waiting service for a younger, internet-savvy generation of patients," explains Cyndey Costello Busbee, Asst. Vice President of Corporate Communications at MCCG.
"After a quick and efficient implementation, we started seeing patients immediately as our facilities had more accessibility and visibility, both online and offline, than ever before. Today, a large majority of our InQuicker patients are choosing to visit our new urgent care locations while at the Emergency Center, the service is helping to load balance our low-acuity and high-acuity patient traffic to increase staff efficiency," says Busbee.
On its company website, InQuicker lists a number of benefits for hospitals including 25-35 percent increases in commercial managed care payor mix, a 100% financial return on investment between 30-60 days on average, and improved patient quality metrics such as lowered left without being seen (LWBS) and length of stay rates.
About InQuicker
InQuicker (http://www.inquicker.com), founded in 2006 and based in Nashville, Tennessee, is the nation's first health IT company to offer an online waiting service for patients seeking timely care. Unlike basic wait time displays, InQuicker provides its users with projected treatment times so they can arrive at the ER or urgent care center and be promptly seen by a health care provider. The company also offers instant primary and specialty care appointments online, including the ability of health care providers in acute-care settings to schedule follow-up appointments with better compliance to reduce costly ER readmissions.
InQuicker currently works with health care providers in metropolitan areas nationwide, including Atlanta, Austin, Birmingham, Chicago, Denver, Houston, Los Angeles, Memphis, Miami, Nashville, New York, Oklahoma City, Phoenix, Philadelphia, San Francisco, and St. Louis.