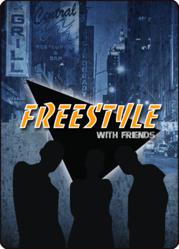 The Best Card Game of 2013!!
Lapeer Mi (PRWEB) March 14, 2013
Rapper Atrane has developed a hip hop game called "Freestyle with Friends". Atrane's game is going to be the hottest new card game in 2013. Atrane's " Freestyle with Friends" is a game where you can play with 4 to 10 people. Atranes game consists of 100 cards with words on them. The object of the game is each player has to pick a card with a word. Then they have to use that word in a Hip Hop Freestyle. The other players judge how he or she performed in the Freestyle. If two out of three players say it was bad, the player loses and has to give up a token. The player at the end of the game that has all of his tokens, wins the game. Atrane had the idea when he saw a major rapper in a YouTube video get ordinary words thrown at him. Then he used those words in a Hip Hop Freestyle. Atrane thought why not make that into a game that people can play at home anytime.
Right now, Atrane and his team are getting everything in order for their launch of "Freestyle with Friends" at the beginning of May or sooner. Atranes first edition of "Freestyle with Friends" will be the Acappela Editon. The Acappela Edition is where you have to freestyle with no music. Atranes next installment of "Freestyle with Friends", will be the" Battle Rap Edition" which will have 12 instrumentals from Atrane's personal producer. Like Atranes " Freestyle With Friends" Facebook page today, to keep up on Atranes next editions and the opening of Atranes online store.
Box & Card Design, Done By The Best Company In Detroit DWPMULTIMEDIA.COM