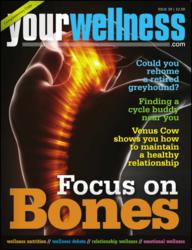 London, England (PRWEB UK) 13 March 2013
Edited by the award winning author, Dr Sarah Brewer, Yourwellness offers the first comprehensive wellness magazine in both print and digital formats. Already distributed across Sussex, the magazine has a current readership of 30,000. The launch of the London edition will push this readership to 70,000 in the first month, with expectations of that figure rising steadily higher over the continuing months.
What is wellness?
Wellness is a topic which impacts the whole family in both the home and the workplace. Independent from any medicinal or wellness discipline, Yourwellness magazine offers well-researched editorial to provide multiple points of view. It covers all eight areas of a person's health and wellness;

Financial
Family and Friends
Personal Relations
Career
Personal Growth
Physical Environment
Health
Leisure and Pleasure
These areas are presented using research from Modern, Ancient, Scientific and Holistic wellness, as well as Psychological, Physiological and Physical angles.
In May 2013, London commuters will be able to enjoy the magazine free of charge as 20 Yourwellness will be distributing at 20 mainline and tube stations. Those enjoying leisure time in London will also benefit with 200 partners offering up free copies of the magazines in gyms, health clubs and spas.
For those who miss out on picking up a copy the content is also published online at http://latestissue.yourwellness.com
The Yourwellness website is also an extensive knowledge base to help people live well at http://www.yourwellness.com