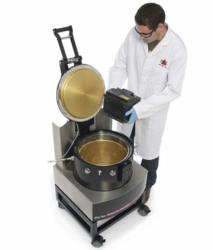 (PRWEB UK) 14 March 2013
The fire and explosion hazards of modern batteries are well known; a recent high profile example is the Li-ion battery fire which resulted in the grounding of the entire fleet of Boeing 787 Dreamliners operated by Japan Airlines in January this year. The Dreamliner fleet remains grounded and the development of safer energy storage holds the key to getting them up and running and more importantly, ensuring they are safe to fly.
HEL have developed Battery Testing Calorimeters (BTC) which allow energy batteries and other storage devices, such as those used in Dreamliners to be tested to destruction, this is also known as "abuse" testing. This testing means that safe operating limits can be established and the consequences of failure can be safely demonstrated. HEL also produces a calorimeter that can provide data that would be used for designing safety systems to actively prevent fires and explosion incidents.
HEL's presentation will cover:

Data illustrating the heat produced from energy storage devices including videos of thermal runaway explosions
How key safety limits can be defined
The data needed to design thermal management systems which in turn will prevent thermal explosions
Heat generation data for different battery types, under isothermal conditions
Use of heat data for understanding and then optimising performance of batteries and supercapacitors
The Supercapacitors conference in Berlin focuses on the status and future direction of Supercapacitors and other energy storage devices.
Find out more about HEL's research in this area at their dedicated thermal hazards and calorimetry website http://www.hazards.co