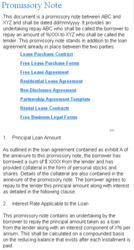 Laws.com, legal website that offer forms and agreement for general public has announced the launch of Promissory Note sample template. The template can be downloaded from laws.com docs section for free.
NewYork, NY (PRWEB) March 16, 2013
Laws.com the legal site for law resources and legal forms announced the availability of promissory note template in its legal forms section. A promissory note is an instrument which is an unconditional promise in writing made by an individual to another individual, assuring to pay a certain amount of money within a stipulated time frame.
'Promissory note' is considered as a negotiable instrument; a document in black and white wherein one party makes a categorical assurance to pay a certain amount of money within a fixed time frame or on demand of the payee. The instrument has some specific terms. The promissory note is referred as a note; a bank note quite often is known as a promissory note and a note made by the bank is responsible to pay the bearer on demand.
Terms
The contents of the bank note include the primary amount, interest rate, the parties, date, maturity date and conditions of repayment. In certain circumstances, some provisions are added regarding the payees rights in the event of a failure which may include the closure of the maker's assets prior to the date of payment.
Demand promissory note usually mention a particular date of maturity, but it's due on demand. The lender, in general cases, will issue a notice a few days prior to the due date of payment. A promissory note for loans between individuals is instrumental for tax and record keeping.
United States
A promissory note in the United States is again a negotiable instrument which congregates certain conditions regulated by article 3 of the Uniform commercial code. Negotiable promissory notes are widely used with mortgages in financing of real estate business. Promissory notes are issued while offering funds for business. To the company's creditors, a promissory note work as a foundation of finance.
The ratification of diverse law of Uniform Commercial code describes what exactly a promissory note is. Classification and the purpose of promissory notes are established at the international level by the 'convention providing a standardized law for bills and promissory notes, signed in Geneva in the year 1930. The agreements demand certain terms to be mentioned in the promissory note.
Availability of promissory note template:
Promissory note is available in laws.com legal forms section and the same can be downloaded by visiting the promissory note page.
The terms of promissory note are as follows:
An unconditional assurance to pay a certain amount of money, a declaration regarding the time of payment, an affirmation regarding the place where the payment is made, the person to whom the payment is made the details of the place, date where the promissory note is issued and the signature of the individual who issues the instrument.
A promissory note differs from IOU because IOU contains an assurance of payment rather than admitting that there is an existing liability. As a common usage 'loan' and 'loan agreement' are used as a reference with promissory note, but these terms seldom have any legal validity. Promissory notes are valid documents of a loan, and it's not a sheer loan agreement. A loan agreement is legally very different form a promissory note.
Laws.com is an online legal resource website that provides information on various branches of laws in United States, smart lawyer search listing and free legal forms.