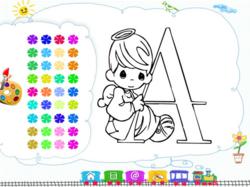 (PRWEB) March 13, 2013
These applications are specially designed to make the learning process joyful for kids aged between 2 and 6 years. Since Dev IT Solutions was founded in March 2003, it has been constantly delivering high quality products for the education sector. Initially these educational mobile applications were launched only for iPhone and iPad. But soon the company will launch these apps on other platforms such as Android, Blackberry, Symbian and Windows. The team members of Dev IT Solutions believe that by providing better education to kids from the beginning is the way to creating a better future.
During a press conference, a senior spokesperson from the company said, "These educational mobile apps for iPhone, iPad, Android, Blackberry and Windows are specially designed for kids to make their learning journey exciting. There apps were developed after thorough market research and survey of parents whose kids are aged between 2 and 6 years. Based on our market research and surveys, we concluded that it is very important to provide education to young minds in creative and informal manner to keep them engaged. Our educational mobile apps are doing exactly the same and hence parents and teachers have welcomed our apps with open arms".
"Color My Alphabet" for iPad is a unique educational application with wonderful features that will make learning process an absolute adventure for the kids. This app does not only teach the alphabets, but also about various animals in the alphabetical order. It gives them options to fill color in the alphabets along with the animals showed with them.
We at Dev IT Solutions are continuously working towards enhancing the world of education by introducing magnificent mobile apps for children of all ages. There are about 5 more educational mobile applications that are already in the development phase and will be launched soon. Our mission is to contribute our part towards the progress of today's young minds to create a better future.
Contact:
Dev IT Solutions Pvt. Ltd.
A-302, Shapth Hexa, Opp. High Court, S.G. Highway, Sola - 380060
Email: info(at)devitsolutions(dot)com
About Dev IT Solutions:
Dev IT Solutions is one of the leading companies providing cutting-edge solutions for Mobile Application Development on various platforms. It has a dedicated team for Development of Mobile Applications i.e. iPhone Application Development, Android Application Development, Blackberry Application Development and Window Mobile Application Development.
iPhone, iPad are trademarks of Apple Inc., Android is a trademark of Google Inc., Blackberry is a trademark of RIM Inc., Windows is a trademark of Microsoft Inc.