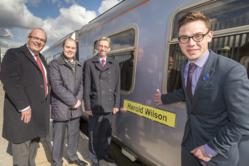 At the height of Beatlemania it was Wilson who nominated the Fab Four for their MBE's
(PRWEB UK) 13 March 2013
The event took place at Wirral's Rock Ferry station, in recognition of Harold Wilson spending a significant part of his early life in Wirral. In the early 1930s he attended Wirral Grammar School for Boys, becoming the schools' first Head Boy and in later years met his future wife Mary, then a secretary at Lever Brothers, when he visited Port Sunlight Tennis Club.
After graduating from Oxford, Harold Wilson joined the Labour Party and returned to the north in 1945 when he was elected as MP for Ormskirk, within two years becoming the youngest cabinet minister of the 20th century at the age of 31. In 1950 he moved to the new constituency of Huyton, an area he was to serve as MP for the next 33 years, encompassing his time as leader of the Labour Party.
Speaking at the train naming ceremony, Councillor Liam Robinson, Chair of Merseytravel said: "Throughout his early years as party leader Harold Wilson revelled in his Liverpool connection, which in the age of Beatlemania was a sure fire popular vote winner and it was Wilson who nominated the Fab Four for their MBE's."
Robin Wilson, eldest son of Harold and Mary Wilson, sent his best wishes saying: "Our family is delighted that one of the Merseyrail fleet of trains is being named after my father. In particular, my mother, now aged 97, sends her best wishes for the occasion.
"We're very sorry not to be able to join you all today for this exciting event, and hope that it is a resounding success."
Mike Roe, engineering director at Merseyrail, commented: "Merseytravel's train naming initiative began in 2008 to celebrate the Capital of Culture year. It proved so popular that Merseytravel and Merseyrail have since extended the programme to include people of distinction, such as politicians and sporting heroes, as well as local figures who have contributed to public transport.
Other units named as follows: 1.Capital of Culture 2.Red Rum 3.Bob Paisley 4.Dixie Dean 5.John Peel 6.Cllr George Howard 7.Cllr Jack Spriggs 8.Operations Inspector Stuart Mason.
Picture caption: L-R - Mike Roe, Cllr Liam Robinson, George Howarth MP for Knowsley and George Wilkinson, Head Boy, Wirral Grammar School