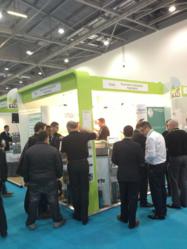 the EcoBound range offers a range of systems that have eco credentials at every level, sub base, resin, aggregates, even cleaners
(PRWEB UK) 15 March 2013
Ronacrete exhibited for the first time at the EcoBuild Exhibition from March 5th to 7th. The launch of Ronacrete's new EcoBound range drew crowds to the stand and the Ronacrete sales team had barely a minute to spare over the three days of the exhibition, drawing interest right until the exhibition's closing minutes.
"We were delighted that so many people wanted to find out more about how the EcoBound range offers a range of systems that have eco credentials at every level, sub base, resin, aggregates, even cleaners.
"Many people were drawn to the stand by the 'water feature' which showed just how porous our SuDS compliant resin bound systems are, but would then stay to hear about the other eco features." -Daren Chambers, Sales and Marketing Director
EcoBound is an eco fully permeable SuDS compliant system, unlike many other systems in the market produced by companies who just offer recycled aggregates as a token 'green' commitment,. From the permeable resin, to the mix-blend aggregate, through the four fully-permeable sub base options, to the cleaners used for the application tools and aftercare.
1. Permeable (SuDS compliant) resin – contains 38% materials from a renewable source
2. Four fully permeable bases:

EcoGrid – grid base produced from 100% recyclable materials
EcoAgg – moisture tolerant resin and recycled aggregate base
EcoCrumb – recycled tyre rubber and aggregate base
EcoBound on permeable asphalt
3. Recycled and or locally-sourced aggregates
4. Low VOC trowel cleaner and Low VOC after care solution to keep surfaces looking like new.