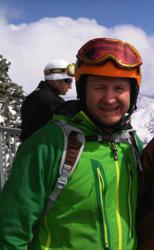 (PRWEB UK) 15 March 2013
Bradford business man Nick Wade, is passionate about sport, with a love of skiing, 5-aside football, running, swimming and cycling, but his poor sight was putting his hobbies at risk.
Having worn glasses since a teenager, Nick, now 53, used daily contact lenses, but had reached the limit on the contact lens prescription available. He explains: "My eye sight was so bad that one contact lens focused on near vision, and the other on distance, but as my sight has got worse over the years, the daily contact lenses no longer gave enough support."
An encounter with an eye surgeon on some Swiss ski slopes helped Nick tackle the problem. The surgeon told him the best place for eye surgery was in Leeds, and so Nick discovered Optegra Yorkshire Eye Hospital and ophthalmic consultant Mr James Ball. He was also inspired by his own sister who had permanent lens replacement three years previously, and was delighted with the results.
ClarivuTM
Clarivu permanent lens replacement is a procedure where the lens of the eye – which naturally hardens with age and can affect vision (a condition known as Presbyopia)– is replaced with a technologically advanced intraocular lens which is tailored to suit the individual prescription. For Nick, the knowledge that his eyes would have the correct vision, and he would be free of contacts, was further supported by the fact that this procedure meant he will never need to have a cataract operation. As the new lens is artificial it cannot develop cataracts.
He said: "A lot of my friends are at an age where they are starting to develop cataracts, and my parents and in-laws have been through a cataract op but still needed reading glasses. I am so pleased that by having Clarivu with a premium lens now, this is something I will never have to go through in later life and I have independence from glasses."
Life without contacts
Nick is delighted with his now perfect vision – even better than when he wore glasses or contacts. He is now free of eye strain from computers at work, and is able to enjoy his sports every day. And despite years in contacts, says it is amazing how quickly you get used to brighter colours with his new, improved vision.
Nick, who lives in Bradford, is married with one son and is a Director at Totality GCS.
Optegra Yorkshire Eye Hospital
Optegra Yorkshire Eye Hospital in Bradford and Leeds City Centre is one of six private UK eye hospitals in the Optegra group. All are supported by over 70 consultant level ophthalmic surgeons who are among the most respected doctors in their field, NHS trained and all are fellows of the Royal College of Ophthalmologists.
They provide a wide range of ophthalmic procedures including: Clarivu (permanent lens replacement), laser vision correction, cataract removal, glaucoma, AMD and cosmetic procedures.
Optegra was founded with the specific aim of creating world-class centres for excellence in eye care. Optegra not only offers the very best treatments available, but also a five star patient experience which guarantees outstanding levels of care and attention every step of the way.
ENDS
Leading specialist eye hospital group, Optegra, is committed to the development of eye sciences and championing the latest innovations in vision correction through its dedicated Eye Sciences Division. Optegra achieves this by partnering with leading UK universities in the research and development of the next generation of ophthalmic services and technologies.
In addition, its Professional Partnership Programme of education and development with optometrists and opticians ensures the very best medical treatments are available to all.
To maintain Optegra's five star standard of patient care and safety, its specialist eye hospitals draw on the expertise of its Medical Advisory Committees (MAC), headed by consultant level ophthalmic surgeons who all report into the corporate MAC. This is managed by Medical Director Mr Robert Morris, the renowned refractive expert who determines Optegra's policies and procedures.
Optegra operates six private eye hospitals: Optegra Eye Hospital, London; Optegra Surrey Eye Hospital (Guildford); Optegra Birmingham Eye Hospital (Aston); Optegra Yorkshire Eye Hospital (Apperley Bridge and Laser Eye Centre in Leeds City Centre); Optegra Solent Eye Hospital (Whiteley) and Optegra Manchester Eye Hospital, (Didsbury); as well as locations in Germany and further UK clinics.
All Optegra hospitals are supported by dedicated optometrists and healthcare technicians and over 70 consultant level ophthalmic surgeons who provide a wide range of procedures including Clarivu (permanent lens replacement), laser vision correction, cataract removal, glaucoma, AMD and cosmetic procedures.