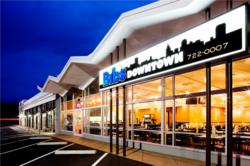 "We've taken what we like from all of the traditional styles and put our twist on it. We cook food, we like to eat."
Winston-Salem, NC (PRWEB) March 14, 2013
Bib's Downtown (http://www.bibsdowntown.com/) has announced that the masterminds behind their smoker, Team Bibs are in the final rounds of consideration to be featured on the upcoming season of a popular BBQ reality show.
The show gives viewers an inside look into the world of competition barbeque in different areas of the country. Team Bibs has made it to the final round in the selection process and will find out if they have been chosen to be on the show in May.
Co-Owner, Robert Moreau said, "The process for getting on a BBQ reality show, starts with submitting an audition video. From there producer choose a list of contestants to compete in a BBQ cook-off. Show start and location are all dependent on Team Bibs being selected for the show."
Team Bibs is made up of the dynamic duo, Pitmaster Mark Little lovingly known as 'Pig Daddy' and his number two Pitmaster and son-in-law, Ricky Wayne. The team boasts many years of competition barbeque experience and knowledge. When asked about the competition on the audition video Little responded confidently that, they are "…not there to win…", but are "…there to be beaten."
Parent restaurant to the team, Bib's Downtown is famous for their slogan, "It's not Eastern or Western...It's Bestern!" On the subject of their unique style Ricky Wayne said, "We love it all. We've taken what we like from all of the traditional styles and put our twist on it. We cook food, we like to eat."
Team Bibs plans to showcase that same unique style of Carolina barbeque if chosen to appear on the popular show. They are confident that they're 'bestern' barbeque can win against anybody's. To keep up with Team Bibs and the status of their audition, visit them at https://www.facebook.com/bibsdowntown
About Bib's Downtown
Bib's Downtown (http://www.bibsdowntown.com/) is a restaurant located in downtown Winston-Salem. They are famous for a huge variety of smoked meats and delicious side dishes prepared by Pitmaster, Mark Little. Bib's Downtown offers onsite parking, a large dining area, take out, patio seating and endless catering possibilities. Bib's Downtown event venue, The Hickory Room provides a full service banquet space. For more information about Team Bibs or Bib's Downtown, call 336-722-0007.