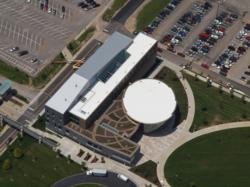 "We are pleased to receive FM Approval certification for Sika Sarnafil green roof systems," said Peter D'Antonio, National Sales Manager - Education/Waterproofing, Sika Sarnafil
(PRWEB) March 15, 2013
Sika Sarnafil, the worldwide market leader in thermoplastic roofing and waterproofing membranes, today announced it received FM Approval for its vegetated roofing system. Sika Sarnafil's FM Approval is the first to be secured worldwide for a vegetated roofing system that includes both the vegetated cover and the Sarnafil roof waterproofing system.
FM Approvals is an independent, nationally recognized product certification laboratory that tests and certifies products, including roofing systems that meet the most rigorous loss preventin standards. The Sika Sarnafil Approved systems can be found in FM Approal's online RoofNav system (http://www.roofnav.com) under the following listings: RoofNav # 329526-0-0 for steel decks and RoofNav #319545-0-0, #319544-0-0, and #319543-0-0 for concrete decks.
"The FM Approval certification is recognized and respected across the globe," said Peter D'Antonio, National Sales Manager ⎯ Education/Waterproofing, Sika Sarnafil. "We are pleased to offer our customers products that have third party certification"
Sika Sarnafil is a leading manufacturer of green roof systems in North America with more than 40 years of project experience. Through partnerships with leading full-service green roof providers and installers, Sika Sarnafil provides customers with the advantages of a single source project delivery solution, backed by a single source Sika Sarnafil warranty that includes the vegetated cover and the Sarnafil waterproofing system.
Sika Sarnafil vegetated green roof projects include: Music City Convention Center, Nashville, TN; Target Center, Minneapolis, MN; Chicago City Hall, Chicago, IL; Federal Reserve Bank, Charlotte, NC; and more than 1000 other applications worldwide.
View this press release on the Sika Sarnafil website here.
About Sika AG
Sika AG, located in Baar, Switzerland, is a globally active specialty chemicals company. Sika supplies the building and construction industry as well as manufacturing industries (automotive, bus, truck, rail, solar and wind power plants, façades). Sika is a leader in processing materials used in sealing, bonding, damping, reinforcing and protecting load-bearing structures. Sika's product lines feature high-quality concrete admixtures, specialty mortars, sealants and adhesives, damping and reinforcing materials, structural strengthening systems, industrial flooring as well as roofing and waterproofing systems. Worldwide local presence in 80 countries and some 15,200 employees link customers directly to Sika and guarantee the success of all partners. Sika generated annual sales of CHF 4.829 billion in 2012. For more information about Sika Sarnafil in the U.S. including Canton, MA visit http://usa.sarnafil.sika.com/.