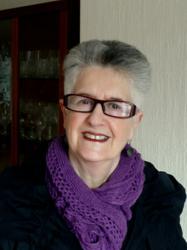 (PRWEB UK) 15 March 2013
Elaine Fraser, from Whitefield in North Manchester, has a wonderful outlook; having recently celebrated her 70th birthday, she is young at heart and lives life to the full, giving her the desire to acquire wonderful new eyesight.
Elaine teaches English and Maths part-time to the inmates of a local prison. Whilst most of her friends have retired, Elaine relishes the opportunity to educate these men, and is the first to admit she loves the work to which she has been committed for the past 30 years.
She explains: "Many of my friends ask why I still bother to work – but it's all to do with age perspective: 70 just isn't 70 anymore. I am fit and healthy, I have so much energy and drive – that is why I opted for the Clarivu eye procedure. I didn't want to wear glasses for the rest of my life, and Clarivu offered me an option which I could not refuse."
Clarivu is a permanent lens replacement procedure, available at Optegra Manchester Eye Hospital, where the lens of the eye – which naturally hardens with age and can affect vision (a condition known as Presbyopia)– is replaced with an technologically advanced intraocular lens which is tailored to suit the individual prescription. For Elaine, the knowledge that her eyes would have the correct vision, and she could return to work without the need for glasses, was further supported by the fact that this procedure meant he will never need to have a cataract operation. As the new lens is artificial it cannot develop cataracts.
When Elaine saw the TV advert, the opportunity to say 'Goodbye Glasses' led to her being immediately persuaded.
"Naturally, I researched the Optegra procedure, ordered the brochure etc., but really, I was so determined to have it, that the decision was made very quickly. I had worn both distance and reading glasses for some years, which I could cope with, but, over the past few months my sight had deteriorated to the point where I could not even apply my eye make-up. I was faced with wearing varifocals forever. However, after trying on countless spectacle frames, I dislike my appearance in all of them."
Clarivu is a 20 minute procedure, during which a specialist eye surgeon replaces the eye's natural lens with a new, permanent, and technically advanced Intra Ocular Lens (IOL). This provides the additional focusing power previously provided by glasses or contact lenses for both distance and reading. It also removes the potential of future cataract operations, as cataracts cannot develop on the new artificial lens.
Elaine said: "My consultant surgeon, Mr Quah, took me through the benefits, and, as I already had a cataract lurking and was so determined to be free of glasses, this seemed the ideal solution. The procedure only took 20 minutes. I waited nervously – though not as much as my husband! – but it was all worthwhile and I have nothing but praise for the whole team.
"My vision is marvelous now. I can thread a needle, sew, read, work….do everything -- without glasses."
Impressed with the state of the art Optegra Manchester Eye Hospital, Elaine's memories are of a highly professional team - right through from her consultant to a wonderful receptionist, Dee, who befriended Elaine and supported her through the procedure. Whilst there were people in their fifties having Clarivu, Elaine could see that she was 'slightly' older. Elaine stated: "But I know I am fit and healthy and I was determined not to wear glasses all day every day. Now I can see so clearly, and colours are so much brighter – I am delighted."
Now raring to go with her newfound vision, Elaine enjoys her weekly swimming sessions, regular theatre and cinema trips and planning holidays, including a 70th birthday trip to Venice with her husband of 42 years. All to be enjoyed without a handbag full of glasses.
Elaine concludes: "I am so happy to be free of glasses. I don't worry about getting old, as I just enjoy life"